What Did You Eat Yesterday?, Volume 18 (Paperback)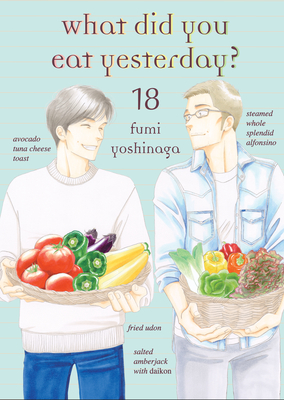 $12.95

Not Yet Published... Can be pre-ordered
Description
---
From the James Tripee Award Winning author, Fumi Yoshinaga, comes a casual romance between two 40-year-old men and the many meals they share together.

A hard-working middle-aged gay couple in Tokyo come to enjoy the finer moments of life through food. After long days at work, either in the law firm or the hair salon, Shiro and Kenji will always have down time together by the dinner table, where they can discuss their troubles, hash out their feelings and enjoy delicately prepared home cooked meals!
About the Author
---
Over the past decade few female comic artists have been as beloved as Fumi Yoshinaga. Born in Tokyo, Japan in 1971, Yoshinaga is a graduate of the prestigious Keio University of Tokyo. A lifelong comic artist and story teller, she made her perfessional debut in 1994 with her short series, The Moon and the Sandals, serialized in Hanaoto magazine, but was previously a participant in many indie comic and fanzine conventions.

Since her debut Yoshinaga has been 16 series, a few of which have been adapted into motion pictures and animated TV series. Her work on Antique Bakery sent her into international fame and she has been nominated for the Eisner Award for her titles - Flowers of Life and Ooku-The Inner Chamber. Of Yoshinaga's many works, several have been licensed internationally. She recently exhibited her work in the United States with the touring gallery "Shōjo Manga: Girl Power!" (Vancouver, Sacramento, New York, Chicago, Boston).