The 30-Minute Mediterranean Diet Cookbook: 101 Easy, Flavorful Recipes for Lifelong Health (Paperback)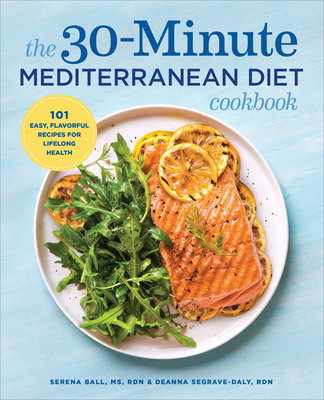 $17.99

Not in Stock... Available to ship in 3-5 days​
Description
---
30-minute recipes to make the Mediterranean diet easy any day of the week
The vibrant, wholesome Mediterranean diet supports heart health and combats chronic disease-and folding it into an everyday routine is the surest way to feel its benefits. The 30-Minute Mediterranean Diet Cookbook helps anyone create a lifestyle full of all the delights this diet has to offer, from crisp produce to lean proteins and healthy fats on a foundation of hearty whole grains.
These uncomplicated recipes are perfect for anyone without a lot of time to spare-or without any kitchen experience. The ingredients can be easily found in grocery stores, and many recipes are labeled as 5-ingredient, one-pot, or 15-minute. Spending less time cooking means spending more time sitting down with a satisfying meal and toasting a glass of red wine to good health
Set the table with dishes like:
Mediterranean Potato Salad-Aromatic lemons and olives combine with fresh herbs in a vacation-inspired potato salad that's perfect chilled for a summer picnic or warmed for a cold winter's day.
Tilapia with Red Onion and Avocado-Delicate fish fillets are perfectly cooked in only 3 minutes-in the microwave-before being stuffed with citrusy onions and complemented with creamy avocado.
Chickpea Patties in Pitas-This twist on the beloved street food falafel wraps crunchy chickpea fritters in warm pita bread and tops them with refreshing cucumber yogurt sauce.
Make the Mediterranean diet an everyday habit with these quick, nourishing recipes.