The Inspired Houseplant: Transform Your Home with Indoor Plants from Kokedama to Terrariums and Water Gardens to Edibles (Hardcover)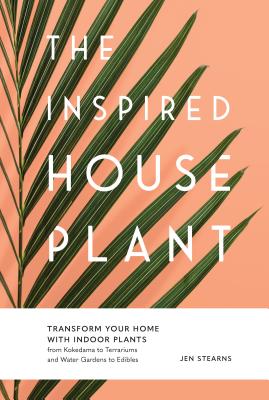 $24.95
Email or call for price.
Description
---
The ultimate indoor gardening book, this guide offers inspiration and instruction for creating vibrant in-home gardens and caring for your houseplants

With plentiful images and a distinctly modern and sophisticated feel, this book imparts both easy-to-follow advice and creative garden-design inspiration. Whether you are looking to pick a statement plant for your living room, create a terrarium centerpiece, or arrange an artful display of air plants, this book will provide the tools you need. You'll be tempted to thumb through it again and again—for both resource and relaxation. The Inspired Houseplant includes:

• Plant Basics: beginner-friendly plant care info
• Plant Guide: profiles of popular indoor plants
• Plant Projects: fun, easy projects with major wow factor (including trending designs like terrariums, air plants, marimo and other underwater gardens, kokedama, mounted staghorn ferns, and edible herbs)
• Plant Style: ways to use plants in interior design for every style from Desert Boho to Midcentury Modern
About the Author
---
JEN STEARNS was born and raised in the historic Wallingford neighborhood of Seattle where she spent time in her mother's vegetable garden as a child. A lifelong plant-lover, she has a BS in environmental science from the University of Washington and has found her calling empowering beginning gardeners to create spaces brimming with personality and life. She is the owner of Urban Sprouts, a plant storefront, online store, and mobile unit that offers hands-on classes, private events, and subscription services to make plant care simple and enjoyable. She lives with her husband in Renton, WA.
Praise For…
---
"The Inspired Houseplant will point you toward your perfect greenery."
—Real Simple

"Gardener and entrepreneur [Jen] Stearns, who owns a plant store in greater Seattle, proves the perfect coach for the houseplant-challenged. Her simple 101-style guide discusses the basics of potting, watering, pruning, and feeding, and wisely sticks to the basics, selecting and organizing into groups plants that will reward beginners [...] Beautiful photography of lush, plant-filled spaces convincingly makes Stearns's points. First-time homeowners or new apartment dwellers who long for green but lack confidence in their plant-tending abilities will be greatly helped by this volume." 
—Publishers Weekly

"If you've ever felt overwhelmed by the process of picking the perfect houseplant for your home, entrepreneur and plant-mom extraordinaire Jen Stearns is here to demystify the process."
—Apartment Therapy

"Greeen thumb or brown thumb—either way, this book levels the playing field with tips, tricks, and easy guides to happy houseplants."
—Better Homes & Gardens, Do It Yourself

"Black thumb, you say? That's not a problem with The Inspired Houseplant, Seattle-native Jen Stearns' gorgeous and helpful new book. Part advice manual, part plant guide, part DIY project tutorial, it's sure to provide inspiration and instruction no matter your gardening level.
—Seattle Times

"Beginning indoor gardeners hoping to green up their homes will find no better resource than this stellar guide."
—Library Journal

"[This] book is a treasure trove of educational information and also includes some projects—terrariums, hanging gardens—perfect for crafting on long winter evenings."
—Seattle Magazine

"Author Jen Stearns penned this guide for indoor gardeners of every ambition level." 
—Seattle Met

"Over the course of 196 beautiful pages, [Jen Stearns] demystifies the stress many of us feel at owning and caring for houseplants [...] Stearns also outlines beautiful how-tos for terrariums and bowl gardens, water gardens and hanging or vertical gardens that will immediately have readers reimagining their home or office."
—The Inlander

"[Jen Stearns] is such an expert on plants that she literally wrote the book on them."
—Seattle Refined on KOMO-TV

"Houseplants bring new life and fresh color into your living space. In her new book, The Inspired Houseplant, Seattle-based greenery guru Jen Stearns shares foolproof care advice for some of her favorites."
—Windermere Living

"This indoor plant book is crammed with garden-design inspiration and easy-to-follow advice that ranges from beginner plant care and watering guidelines to the most popular indoor plants to buy now. And, with its striking cover, clean layout and modern design, The Inspired Houseplant will make a beautiful addition to any coffee table."
—House and Leisure

"[Jen] Stearns is more than an entrepreneur with a green thumb and a taste for modern decor. She's well versed in the science behind gardening." 
—Renton Reporter