The Posttraumatic Growth Workbook: Coming Through Trauma Wiser, Stronger, and More Resilient (Paperback)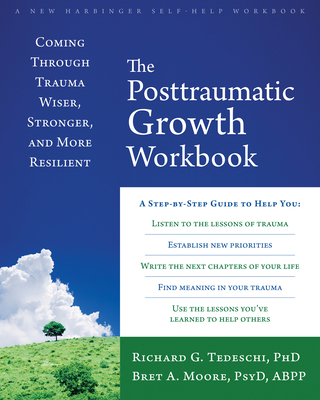 $23.95

Not in Stock... Available to ship in 3-5 days​
Description
---
People who experience trauma often struggle with its effects, but many men and women have found meaning in their traumatic event and now experience life differently. Written by two psychologists and experts on trauma psychology--including one of the key researchers on posttraumatic growth (PTG)--this unique, evidence-based, step-by-step workbook offers a new model for processing traumatic experiences in order to gain wisdom, strength, and resilience.
There is no denying the psychological and physical costs of trauma, but suffering a traumatic experience does not necessarily mean you'll develop posttraumatic stress disorder (PTSD) and have to live with its debilitating long-term symptoms. While the process of recovering from trauma is difficult and painful, survivors also experience posttraumatic growth (PTG). And with the right approach to healing, the same challenges that create PTSD can also set the stage for a psychological rebirth.
The Posttraumatic Growth Workbook expands the focus on posttraumatic stress and its related difficulties to include the significant potential for positive growth in the aftermath of trauma. With this guide, you'll learn more about traumatic experiences and their short- and long-term effects, discover where you are in your own process, explore vulnerability as an important aspect of post-traumatic strength, identify and develop other strengths for coping with--and growing beyond--your trauma, and successfully integrate your experience into your personal story.
Navigating the aftereffects of trauma is a difficult journey, but many people report having a new appreciation for life and feeling even more resilient after working through their traumatic event. Using this powerful, PTG-based workbook, you'll find it's possible to come out of your trauma even stronger and wiser.
About the Author
---
Richard G. Tedeschi, PhD, is professor of psychology at the University of North Carolina at Charlotte, and a licensed psychologist in practice for over thirty-five years. He helped originate the concept of posttraumatic growth (PTG), and has published many academic books and articles on the subject. Tedeschi has consulted with the US Army and many other institutions to train professionals in growth-oriented practice. Bret A. Moore, PsyD, ABPP, is a prescribing psychologist and board-certified clinical psychologist in San Antonio, TX. He is a former active-duty Army psychologist and two-tour veteran of Iraq. Moore is the author and editor of fifteen books and has authored dozens of book chapters, scientific papers, and popular press articles. His views on clinical psychology have been quoted in USA Today, The New York Times, and The Boston Globe, and on CNN and Fox News. He has appeared on NPR, the BBC, and CBC.