VOLT ink.: Recipes, Stories, Brothers (Hardcover)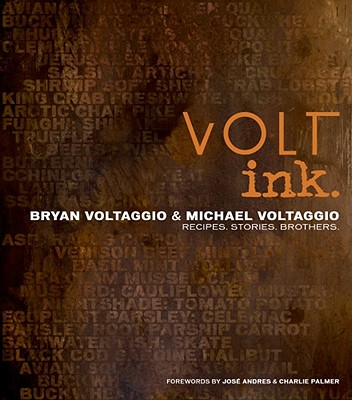 $40.00
Email or call for price.
Description
---
Chefs and brothers, and winner and runner-up from season six of the Bravo cooking competition show Top Chef, share their unique relationship with food and family in this lavishly photographed cookbook.

Bryan and Michael Voltaggio have been called two of the most talented chefs of their generation, though they are probably best known for their head-to-head, brother-against-brother competition on season 6 of Bravo TV's Top Chef. In their eagerly anticipated debut cookbook, the brothers present their cuisine through an exploration of 20 food families of ingredients.

Chef Charlie Palmer, one of the brothers' mentors, writes in his foreword to the book, "There are no better examples of kitchen craftsmen in our exciting culinary era than the Voltaggio brothers," and celebrated chef José Andres calls the brothers "both amazing and talented cooks, among the best I know." Their work, separately and together, combines the most exciting modern culinary techniques with impeccable ingredients and unexpected twists to create dishes that are at the same time intellectually interesting, visually stimulating, playful, and incredibly delicious.

Unique in its organization, VOLT Ink. is stunningly photographed, featuring full-color images for every recipe along with glimpses throughout of the brothers at work in their respective restaurants. The recipes have been thoroughly tested to make even the most scientific-seeming techniques reproducible for everyone. Add to that a collection of stories from the brothers themselves—touching on their shared childhood, their respective mentors and collaborators, and what inspires their cooking—and this cookbook is sure to delight anyone interested in the art and craft of modern cooking.
About the Author
---
Bryan Voltaggio
Highly accomplished, innovative, and talented 35-year old Chef Bryan Voltaggio is among the new generation of chefs who are reinventing American cooking. A graduate of the prestigious Culinary Institute of America in Hyde Park, New York, Chef Voltaggio's pedigree includes almost a decade working as protege under celebrated culinary notable, Charlie Palmer. Through his three-star reviewed restaurant VOLT in his native Frederick, Maryland, Voltaggio exercises his cooking philosophies and signature preparations of New American cuisine offering menus driven by the fresh, seasonal offerings of local farmers. He characterizes his cuisine as "sophisticated dishes offering classic flavor combinations created using fundamental and innovative cooking techniques." Bryan Voltaggio's passion for cooking was fostered during childhood in Frederick County where meals often included produce harvested from the family garden. Committed to a career in cooking early in his life, Voltaggio had already served as Sous Chef and Executive Chef at two regional hotel restaurants by the age of 20. Upon graduation from culinary school, Voltaggio went on to work under Chef Palmer at famed Aureole in New York City, and later opened the second outlet of Aureole at Mandalay Bay in Las Vegas. Voltaggio re-located to Frederick with his family to open Charlie Palmer Steak in Washington, DC. After five years there as Executive Chef, Voltaggio opened VOLT in 2008. Voltaggio is a James Beard Best Mid-Atlantic Chef nominee and was named Chef of the Year by both the non-profit Share Our Strength and the Restaurant Association of Maryland in 2010.

Michael Voltaggio
Chef Michael Voltaggio has spent over half of his lifetime in the kitchen, starting at the age of 15. Now based in Los Angeles, he will open his first signature restaurant, ink., in 2011. Voltaggio describes his food as "modern Los Angeles," distinguished by inspired flavor profiles and elevated by the combination of classical and modern techniques. Voltaggio touts a solid culinary background, receiving his formal training as an Apprentice at the esteemed Greenbrier Resort in West Virginia. He went on to helm the kitchen at an honor roll of haute dining establishments: The Bazaar by Jose Andres at the SLS Hotel in Beverly Hills; Charlie Palmer's Dry Creek Kitchen in Healdsburg; The Dining Room at the Langham Hotel in Pasadena; The Grill Room and The Dining Room at the Ritz-Carlton in Naples. A Michelin-starred chef, he was a finalist for the James Beard "Best New Restaurant" award in 2009, the same year he famously won the honor of Top Chef on Bravo TV's Emmy-winning season (Season 6 – Las Vegas).