The Mirror Thief (Hardcover)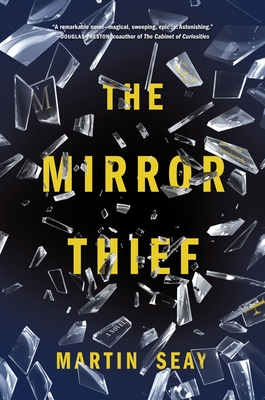 Email or call for price.
Special Order - Subject to Availability
May 2016 Indie Next List
---
"In this outstanding debut, three stories are linked by criminal pursuits and Venice -- not so much the actual place, but the idea of that place. In late 1500s Venice, Italy, a man schemes to steal the most guarded technology of the day -- a mirror; in 1950s Venice Beach, California, a thief discovers a mysterious text that seems to have unusual insights about that stolen mirror; and in 2015, a soldier pursues the thief in The Venetian hotel in Las Vegas to retrieve the book about the mirror. As the stories draw together, Seay's thrilling novel dazzles at every turn. Unexpected and amazing, The Mirror Thief will leave readers breathless."
— Jeremy Ellis (W), Brazos Bookstore, Houston, TX
Description
---
A New York Times NOTABLE BOOK OF THE YEAR
An NPR BEST BOOK OF THE YEAR
A Publishers Weekly BEST BOOK OF THE YEAR
 
A globetrotting, time-bending, wildly entertaining masterpiece hailed by the New York Times Book Review as "Audaciously well written … the book I was raving about to my friends before I'd even finished it."
 
Set in three different eras, and in three different locations—all, coincidentally, named Venice—this "startling, beautiful gem of a book" (NPR) calls to mind David Mitchell and Umberto Eco in its mix of entertainment and literary bravado.
 
The core story is set in sixteenth-century Venice, where, on the island of Murano, the famed makers of Venetian glass were perfecting one of the old world's most wondrous inventions: the mirror. An object of glittering yet fearful fascination—was it reflecting simple reality, or something more spiritually revealing?—the Venetian mirrors were state-of-the-art technology, subject to industrial espionage by desirous sultans and royals world-wide. Thus, for the skilled craftsmen that made them, any attempt to leave the island—to steal the technology—was a crime punishable by death. One man, however—a world-weary war hero with nothing to lose—has a scheme he thinks will allow him to outwit the city's terrifying enforcers of the edict, the ominous Council of Ten . . .
 
Meanwhile, in two other Venices—Venice Beach, California, circa 1958, and the Venice casino in Las Vegas, circa today—two other schemers launch similarly dangerous plans to get away with a secret . . .

All three stories weave together into a spell-binding tour de force that is impossible to put down—an old-fashioned, stay-up-all-night novel that, in the end, returns the reader to a stunning conclusion in the original Venice . . . and the bedazzled sense of having read a truly original and thrilling work of art.
About the Author
---
MARTIN SEAY is the executive secretary for the village of Wheeling, Illinois. His work has appeared in The Believer, Joyland, Gargoyle, The Gettysburg Review, and elsewhere. The Mirror Thief is his first novel.
Praise For…
---
A New York Times NOTABLE BOOK OF THE YEAR
An NPR BEST BOOK OF THE YEAR
A Publishers Weekly BEST BOOK OF THE YEAR
 
"Audaciously well written … the book I was raving about to my friends before I'd even finished it."—The New York Times Book Review
 
"[A] wondrous debut, a deliciously intricate, centuries-spanning tripartite tale of money and mysticism … Mr. Seay has conjured his own kind of sorcery, a sophisticated thriller that keeps the pages turning even as it teases the mind."—The Wall Street Journal
 
"Transfixing ...The Mirror Thief is a startling, beautiful gem of a book that at times approaches a masterpiece."—NPR
 
"Compared recently to the work of David Mitchell, Seay's big, genre-ish The Mirror Thief is actually better than most novels by that author."—Flavorwire
 
"Hugely entertaining."—The Daily Mail
 
"A twisting, turning, metaphysical journey that's sure to please fans of David Mitchell and Umberto Eco. Those are exalted names, but the depth of these stories and the straightforward artistry of Seay's writing will woo those looking for a true literary experience."—B&N Review
 
"It is easy to see why Martin Seay's debut novel, The Mirror Thief, has been compared to David Mitchell's Cloud Atlas, and comparisons to Elmore Leonard and Umberto Eco are also justified for this substantial and richly imagined novel, spanning three time periods and two continents … A transporting and original novel."—BookBrowse
 
"The Mirror Thief establishes Seay as an impressive new voice to watch."—Buzzfeed
 
"Masterful and mysterious."—Las Vegas Weekly
 
"The weirdest and most ambitious novel of 2016 thus far … a literary, speculative, mystical masterwork."—Chicago Review of Books
 
"A true delight, a big, beautiful cabinet of wonders that is by turns an ominous modern thriller, a supernatural mystery, and an enchanting historical adventure story … A splendid masterpiece, to be loved like a long-lost friend, an epic with near-universal appeal."
—Publishers Weekly starred review
 
"Grandly entrancing … Shimmering with intimations of Hermann Hesse, Umberto Eco, and David Mitchell, Sheay's house-of-mirrors novel is spectacularly accomplished and exciting."
—Booklist starred review
 
"The Mirror Thief is a remarkable novel—magical, sweeping, epic, and monstrous. It is a tour de force of writing that defies all labels and genres, three interwoven stories that will draw you into worlds of mystery, crime, violence, and obsession. The Mirror Thief is a work to be savored if you have the discipline, but more likely devoured if, like me, you simply can't put it down. An astonishing debut novel of immense literary depth."
—Douglas Preston, #1 bestselling co-author of The Monster of Florence and The Cabinet of Curiosities
 
"A 600-page thrill ride across three centuries and two continents ... Part crime thriller and part meditation on poetry, with unexpected plot twists and references to famous figures as diverse as the French dramatist Antonin Artaud and Jay Leno...An impressive feat of imagination."—Bookpage
 
"The Mirror Thief is a perfect amalgam of the sort of pleasure I hope to get out of 'literary' fiction and the pleasure I get out of a beautifully plotted potboiler: it's a page-turner I can't put down in which the sentences are breathtakingly gorgeous. Every sentence of this novel is charged with a living energy that seems to come from the clouds. In scope, it reminds me of Roberto Bolaño—in execution, of Elmore Leonard or Richard Price. It is a novel of ideas that still knows how to describe a slot machine in such an evocative way that it makes me swoon. It is a deeply impressive work of art."
—Benjamin Hale, author of The Evolution of Bruno Littlemore and The Fat Artist and Other Stories
 
"Readers, beware, as you embark on this journey through three Venices at three remarkably vivid moments in history. Like a card shark, a street hustler, a kidnapper waiting in ancient shadows, Martin Seay will trick you, dazzle you, spirit you away. I invite you to try your luck with The Mirror Thief; you can't lose."
—Zachary Dodson, author of Bats of the Republic