Prairie-Style Gardens: Capturing the Essence of the American Prairie Wherever You Live (Hardcover)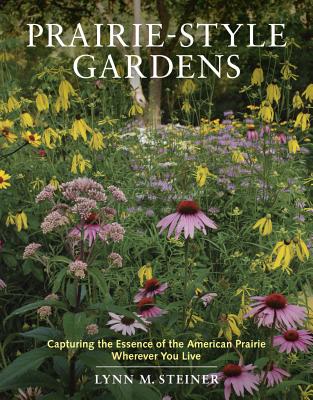 $34.95
Email or call for price.
Description
---
With its unique blend of grasses and sturdy perennials, the North American prairie is one of the world's richest and most beautiful biotopes. It's also one of the most endangered—only a tiny fraction remains of the millions of pristine acres that once stretched from horizon to horizon. Fortunately, you can re-create some of this diversity at home and enjoy these fascinating plant communities up close. You don't need to have endless acres at your disposal—you can have an authentic prairie garden on a city or suburban lot.

And you don't even have to live on the Great Plains: prairie plants are practical choices for any landscape situation that has good drainage and full sun, whether in New England or the desert Southwest. Moreover, with their modest water needs, prairie plants make a great substitute for water-hungry lawns. And at a time when wildlife habitats are under increasing pressure from development, their flowers and foliage provide food and shelter for birds and beneficial insects.

Eminently practical, Prairie-Style Gardens shows you how to use prairie plants in a wide variety of situations, from including a few prairie plants in an existing landscape to creating a full-fledged habitat garden. Especially useful is the author's advice on how to make prairie plants work in a typical urban or suburban setting, where it isn't easy to deviate from the local norm. A comprehensive plant profiles section helps you choose which plants will look best and thrive in your particular situation. Each plant entry includes detailed information on size, native habitats, site requirements, hardiness, appropriate landscape uses, care, companion plants, and available cultivars.

Anyone can have a prairie—this book tells you how to do it.

About the Author
---
Lynn M. Steiner has been a professional garden writer since 1987, focusing her writing since 2003 on native plants and how to bring them into home landscapes. She is the author of several articles and three books about landscaping with native plants in the Midwest, and is a regular contributor to Northern Gardener magazine. As a popular speaker, she travels extensively in the Midwest, visiting natural areas, native plant landscapes, and botanical gardens.
Praise For…
---
"Lavishly illustrated, containing a treasure of prairie flowers and grasses, common and scientific names, growth habits, silting needs, maintenance, companion uses, and other helpful information." —Publishers Weekly

"Especially useful is the author's advice on how to make prairie plants work in a typical urban or suburban setting." —Quill and Trowel

"A practical guide that focuses on the native grasses and perennials that do best in a back yard." —Star Tribune

"Colorful." —SciTech Book News

"Whether you envision a sea of waving grasses, or simply wish to enjoy a sampling of the prairie's diverse flora, this book is sure to inspire and inform." —American Gardener

"Especially useful is the author's advice on how to make prairie plants work in a typical urban or suburban setting." —Raintree Nursery Catalog