How to Build Your Own Greenhouse (Hardcover)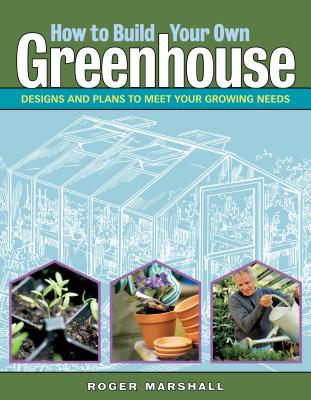 $34.95
Email or call for price.
Description
---
Unlock new growing opportunities and increase your property value with an outdoor conservatory. In this illustrated guide, Roger Marshall shows you how to build our own greenhouse using simple, easy-to-follow techniques. Covering everything from selecting a site to glazing glass, Marshall includes tips on laying a foundation, construction materials, ventilation, and much more. Whether your goal is to stretch the growing season or create a lush space for a year-round hot tub, you can build the greenhouse of your dreams. 
About the Author
---
In addition to designing boats, Roger Marshall regularly lectures and gives talks on gardening and greenhouse growing. He writes a monthly blog post for Hartley Greenhouse, and is the former editor of Home Greenhouse. He is also a member of the Garden Writers Association, The American Society of Journalists and Authors, and the Society of Authors (UK).
Praise For…
---
"Roger Marshall's book…shows gardening enthusiasts how to grow colorful flowers, tropical fruits and abundant vegetables year-round, no matter what the weather is."
Los Angeles Daily News, January 27, 2007
"Marshall leads readers through myriad options and provides well-organized details on the whys and wherefores of each, along with how you (or a contractor) can design and build the greenhouse to suit your gardening needs."
Arkansas Democrat, March 3, 2007
"The book's strengths are its many and varied schematics and highly detailed, step-by-step instructions for building growing structures, from cold frames for just a few vegetables to a large free-standing greenhouse that can double as an entertainment area…There's even a four-page check-list of what to plan for, materials to buy, and approximate costs."
Milwaukee Journal Sentinel, February 25, 2007
"If you are interested in building a greenhouse, here is the definitive do-it-yourself guide. This is the only guide needed to plan, situate and build your dream greenhouse."
Lexington Herald-Leader, June 30, 2007
"If you've ever contemplated adding a greenhouse to your property but didn't know where to start, How to Build Your Own Greenhouse by Roger Marshall will point you in the right direction."
The American Gardener, Sept.-Oct. 2007
"The author gives gardeners the inspiration to take their hobby indoors for the winter months, and then he gives them the means to do so, with step-by-step instructions….Nothing seems insurmountable under the guidance of master gardener Marshall."
Berkshire Eagle