Shady Retreats: 20 Plans for Colorful, Private Spaces in Your Backyard (Paperback)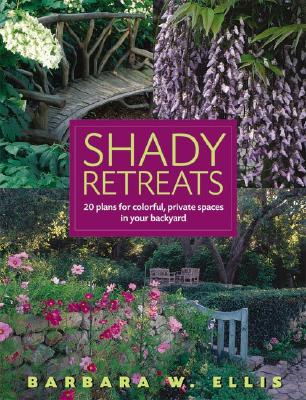 $19.95
Email or call for price.
Description
---
Most flowers and vegetables love the sun, but the gardeners who tend them crave the shade. A comfortable hammock strung between two trees. A set of Adirondack chairs arranged for conversation beneath a vine-covered arbor. A stone bench tucked into a quiet nook. These out-of-the-way outdoor retreats provide busy gardeners with cool relief from the hot sun, as well as precious hours of quiet, privacy, and peace.
In SHADY RETREATS, lifelong gardener Barbara W. Ellis provides detailed plans for 20 gardens with shade as the theme. Each design includes easy-to-read blueprints and a glorious oil painting of what the garden will look like. Ellis also provides specific plant lists; suggestions on how to bring color into the shade; and practical advice on how to use shrubs, trees, vines, and man-made structures to create attractive, inviting, shady sanctuaries in any garden or yard.
The garden design concepts are easy for even novices to grasp, and experienced gardeners will appreciate the unique inspirations and down-to-earth advice on how to adapt the concept of the shady retreat to fit their own garden's configuration.
Complete with suggestions on how to use gazebos, containers, fountains, and other garden ornaments, plus an encyclopedia of approximately 100 shade-loving plants, Shady Retreats is an easy-to-use handbook that helps even beginning gardeners make the move out of the house and into a cool, inviting outdoor sanctuary.<
About the Author
---
Barbara W. Ellis is a freelance writer, editor, and lifelong gardener. She is the author of many gardening books, including The Veggie Gardener's Answer Book, Deckscaping, Shady Retreats, and Covering Ground. She holds a B.S. in horticulture from the Ohio State University, Columbus, and a B.A. from Kenyon College. She has worked as managing editor at Rodale Press and as publications director for the American Horticultural Society and is affiliated with the Hardy Plant Society Mid-Atlantic Group, the Garden Writers Association, and the Perennial Plant Association. She lives and gardens in Maryland, where she and her husband live in a renovated "green" home with an assortment of rescued dogs, cats, and parrots. Her garden, which is managed organically and designed to be wildlife-friendly, features a wide range of ornamentals, herbs, and edibles for both sun and shade.
Praise For…
---
"This is the book you'll turn to after accepting that your garden has lots of shade … Accept the shady deal and learn to love the cool green." — Seattle Post-Intelligencer
"If you've got a shady yard — or you want a shady yard — this is the book for you. Shady Retreats … provides step-by-step advice for creating everything from a shade nook to an entire garden." — Milwaukee Journal-Sentinel
" … a wonderfully written paperback … gives step-by-step instructions and detailed illustrations on how to create delightful retreats in the shade." — The Indianapolis Star
"In all, 20 garden plans suggest intriguing possibilities … A congenial writing style provides plenty of encouragement." — Booklist
"[G]arden expert Barbara Ellis' book of outdoor designs has something for everyone." — Tulsa World
Also featured in Detroit News and Free Press, St. Paul Pioneer Press, Nashville Tennessean, The Morning Call, Oklahoman, New Orleans Times-Picayune, Riverside, CA, Press-Enterprise, CNNMoney online, www.gardenerspath.com,
"If you've got a shady yard – or you want a shady yard – this is the book for you." – Milwaukee Journal Sentinel