Healing Your Hungry Heart: Recovering from Your Eating Disorder (Paperback)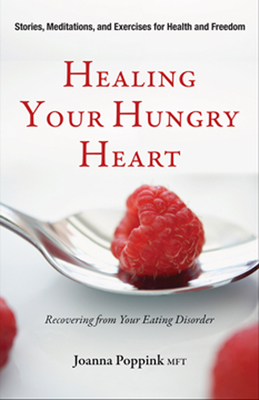 $18.95

Not in Stock... Available to ship in 3-5 days​
Description
---
10 million people in the U.S., including 1 in 5 women, suffer from eating disorders. While this issue has long been associated with teenage girls, doctors are now reporting that a growing number of women are also developing these disorders later in life or have hidden these problems for years. For women in their thirties, forties, fifties, and beyond, issues of loss from divorce, death, and empty nest syndrome as well as marriage and career pressures can trigger an eating disorder.
Psychotherapist Joanna Poppink offers a comprehensive and effective recovery program for women with eating disorders, based on her thirtyyear professional practice treating adults with anorexia, bulimia, and binge eating. She shares her personal struggles with bulimia, along with stories from a widerange of clients she has counseled. Poppink primarily addresses women who have been suffering with eating disorders for years while they manage their careers, marriages, and families.
Healing Your Hungry Heart offers a stepbystep program that identifies:

Early warning signs
Challenges to early recovery
Triggers to emotional eating
Impact on sex life and family relationships
The program includes journaling, meditations, exercises, quizzes, and resources to support and speed the recovery process. For women struggling with emotional eating, this book offers hope, understanding, and real solutions.
About the Author
---
Joanna Poppink, MFT, is a licensed psychotherapist specializing in treating adults with eating disorders. She studied psychology at UCLA and the Saybrook Institute and received her master's degree from Antioch University. She lives in Los Angeles. Visit her at: EatingDisorderRecovery.com.
Praise For…
---
"This book offers a variety of valuable tools and practical ways for those with eating disorders to nourish both their bodies and their spirits. It also offers real solutions and hope for its readers." Christine Hartline, M.A., Founder and Director, Eating Disorder Referral and Information Center, EDReferral.com
— Reviews

"Joanna Poppink's Healing Your Hungry Heart answers two questions I frequently hear from troubled eaters: "How do I begin my recovery and what can I do to sustain it?" Her chapter on the warning signs of an eating disorder is especially helpful to those who aren't sure if their relationship with food is unhealthy or not. Other chapters gently guide the reader in an exploration of what is needed to recover from deregulated eating--mindfulness, selfreflection and honesty, bona fide emotional nourishment, and daily practices for skill acquisition and moving toward true fulfillment. I would certainly recommend this book to my clients and students." -Karen R. Koenig, LCSW, M.Ed., author of The Food and Feelings Workbook and Nice Girls Finish Fat
— Reviews

"Finally--a book that speaks beyond the stereotype of eating disorders as the 'little girl's disease,' reaching out to women who have lived with these devastating disorders for years, and offering practical, sound, and insightful advice on how to begin, and sustain, real recovery." Marya Hornbacher, author of Wasted: A Memoir of Anorexia and Bulimia
— Reviews