Dreams of El Dorado: A History of the American West (Hardcover)
Weller Book Works was founded as Zion Bookstore nearly 90 years ago. Over the years we've been known as Sam Weller's Books and Sam Weller's Zion Bookstore. We are in our third generation of operations, owned and managed by Tony and Catherine Weller. Our staff includes four generations of Wellers and a remarkable team of book lovers. Our bookstore sells new, used and rare books in a space built to surprise and delight you in historic Trolley Square.

We're happy to answer your questions and help you select just the right book.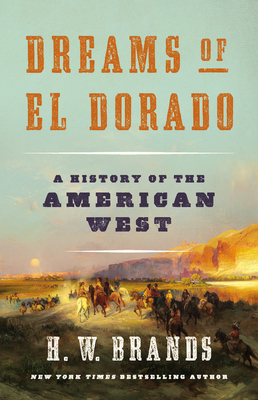 $32.00
Not in Stock... Available to ship in 3-5 days​
Description
---
"Epic in its scale, fearless in its scope" (Hampton Sides), this balanced, authoritative, and masterfully told account of the American West from a two-time Pulitzer Prize finalist sets a new standard as it sweeps from the California Gold Rush to the Texas Revolution and beyond.
In Dreams of El Dorado, H. W. Brands tells the thrilling, panoramic story of the settling of the American West. He takes us from John Jacob Astor's fur trading outpost in Oregon to the Texas Revolution, from the California gold rush to the Oklahoma land rush. He shows how the migrants' dreams drove them to feats of courage and perseverance that put their stay-at-home cousins to shame-and how those same dreams also drove them to outrageous acts of violence against indigenous peoples and one another. The West was where riches would reward the miner's persistence, the cattleman's courage, the railroad man's enterprise; but El Dorado was at least as elusive in the West as it ever was in the East.

Balanced, authoritative, and masterfully told, Dreams of El Dorado sets a new standard for histories of the American West.
About the Author
---
H. W. Brands holds the Jack S. Blanton Sr. chair in history at the University of Texas at Austin. A New York Times-bestselling author, he was a finalist for the Pulitzer Prize in biography for The First American and Traitor to His Class. He lives in Austin, Texas.
Praise For…
---
"Lively...[Brands] knows
how to write in a popular style that draws us in and holds our interest...[He]
also pauses to make some thought-provoking insights, which round out the
narrative and present his subject in a fresh light...An engaging, eminently
readable introduction."—Wall Street Journal

"An exciting new history
of the American West and how it was settled, from the California gold rush to
the Oklahoma land rush and more."—New York Post

"[Brands] has a deft
narrative touch and a talent for highlighting the human drama undergirding
historical events...History as adventure story."—Los Angeles Review of Books

"[A] fine new history."—Houston Chronicle

"Brands surveys the past
three centuries of the West, chronicling all-too-human tales of hope, greed,
triumph, tragedy, and irony. His history is propelled by the stories of amazing
characters, some famous, others obscure...A marvelous short history of the West,
rewarding both expert and neophyte readers."—Booklist (starred review)

"Brands is a master
storyteller...[Dreams of El Dorado] will enthrall aficionados of
19th-century American history."—Library Journal

"A lively, well-written
survey full of novel observations on a region shrouded in legend."—Kirkus

"Brands argues
convincingly that the reality of the American West was very different than the
way it was mythologized...Lucid prose and short, tightly focused chapters...This
broad but clearly structured study, with its many well-chosen illustrations, is
likely to have wide appeal."—Publishers Weekly

"The expansion of the United States across what would become the American West is the sort of sprawling, tumultuous epic that is best told by a calm and concentrated mind. Fortunately the author of this book is H.W. Brands, who has the vision and supreme narrative skill to braid the chaotic tendrils that make up the past into a story that is almost as exciting for its coherence as it is for the heroic and heartbreaking events it so vividly renders. Dreams of El Dorado is the latest reason to think of Brands as America's go-to historian."—Stephen Harrigan, author of Big Wonderful Thing and The Gates of the Alamo

"A subject this monumental demands prose to match it, and I am pleased that to report that, in this sprawling epic, H. W. Brands is at his sparkling best. He is of the American West and grew up in its myths, which may explain why he writes about it with such passion and clarity."—S. C. Gwynne, New York Times bestselling author of Empire of the Summer Moon and Rebel Yell

"The 'winning' of the American West is that biggest and most daunting of subjects, so big that most historians have found it necessary to bite off small corners of this grand and sordid tale of empire-building. But here H.W. Brands endeavors to tell it all, from Texas to California, from beaver pelts to buffalo robes, from the hoofbeats of horses to the steam blasts of the first transcontinental trains. Epic in its scale, fearless in its scope, this is a bravura performance from one of our master historians."—Hampton Sides, bestselling author of Blood and Thunder