Copycat Recipes: Discover the secrets to recreate the recipes of your favorite restaurants directly at your home, saving time and money (Hardcover)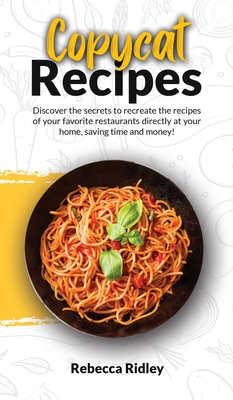 $29.99

Not in Stock... Available to ship in 3-5 days​
Description
---
IF YOU WANT TO RECREATE THE EXACT COPYCAT RECIPES OF YOUR FAVORITE RESTAURANTS & FAST-FOOD DIRECTLY IN YOUR KITCHEN, THEN KEEP READING...
TASTE THE GOODNESS AT A FRACTION OF THE COST WITHOUT LEAVING YOUR HOME
★★★ THE BEST-LOVED RESTAURANT AND FAST FOOD COPYCAT RECIPES ★★★
Everyone craves the comfort of their fast food favorites and their most preferred restaurant meals. But sometimes it's just as fun to recreate them in the comfort of your home.
That's why this copycat recipe is the perfect cookbook to have on your shelf Keep it handy so you can whip any of your favorite meals whenever you crave them You will discover a whole new level of excitement and fun in your kitchen as you recreate your favorite recipes at home.
Not sure you can recreate them? This cookbook was made for anyone to successfully be able to copy each recipe into a delicious copycat meal The detailed step-by-step instructions don't leave anything out and make it easy for you to follow
In this book you will find:
The specialties of your favorite restaurants and fast-food;
Step by step recipes that will save you time and money;
An accurate list of all the ingredients you'll need;
Advice on your "tools of the trade";
And more
The book is divided into your favorite breakfasts, lunches, dinners, desserts, and even vegan specialties. It makes the perfect gift for someone who wants to recreate their restaurant & fast food favorites right at home
Click "add to cart" and start recreating your restaurant favorites today