Copycat Recipes: Ultimate Cookbook to Easily Making Most Popular Recipes from Your Favorite Restaurants at Home ON A BUDGET (Paperback)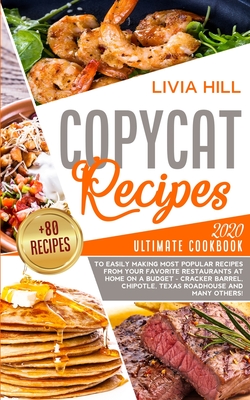 $19.99

Not in Stock... Available to ship in 3-5 days​
Description
---
Would you like to eat original restaurants' dishes without moving out from the comfort of your home?Tired of paying for overpriced meals and waiting hours in line at the restaurant?Have you ever been disappointed when you tried to replicate a famous dish?
Most restaurants' specialties are overpriced and this is a fact. And maybe you already know you can easily replicate them at home paying only a fraction of their original price. But you need to BE CAREFUL if you really want to replicate your favorite original restaurant specials at home, you must make sure you are following clear, detailed and trustworthy instructions. Even a single wrong ingredient or dosage can indeed mislead from your expected result. Moreover, most of the easily accessible recipes are just inspired-by versions, and restaurants jealously keep their secret recipes from spreading around. How to do then?
The Copycat Recipes: Ultimate Cookbook by Livia Hill includes verified and personally tested methods that strictly replicate restaurant preparation procedures. You have all the information you need: you will get to know the specific ingredients and the secret methods adopted by restaurants, but also useful information on preparation times, servings and estimated costs. This will allow you to easily recreate exactly the same dishes as served at the restaurant, in a cheap and accurate way. Best-seller specialties from most popular restaurants are here grouped in a complete, precise, and user-friendly cookbook. You'll realize how satisfying sharing your creations with your family and friends can be
There is a wide range of FOOD CATEGORIES breakfast, appetizers, salads, sandwiches, mains, burgers, desserts, drinks and so much more, including Italian and Asian cuisine.
+80 Exposed Secret Recipes from over 13 RESTAURANTS such as ★Texas Roadhouse, ★Chipotle, ★Cracker Barrel, ★Olive Garden, ★Applebee's, ★Red Lobster, ★PF Chang's, and ★ many others
Hidden prices revealed Discover how much you're saving
Tips and tricks to get the most from your cooking experience
Even if you are not the best at cooking don't be afraid Thanks to its step-by-step nature, the Ultimate Cookbook will guide you to the realization of your favorite dishes through easy and quick recipes, surprising all your family and friends