Mobituaries: Great Lives Worth Reliving (Hardcover)
Weller Book Works was founded as Zion Bookstore nearly 90 years ago. Over the years we've been known as Sam Weller's Books and Sam Weller's Zion Bookstore. We are in our third generation of operations, owned and managed by Tony and Catherine Weller. Our staff includes four generations of Wellers and a remarkable team of book lovers. Our bookstore sells new, used and rare books in a space built to surprise and delight you in historic Trolley Square.

We're happy to answer your questions and help you select just the right book.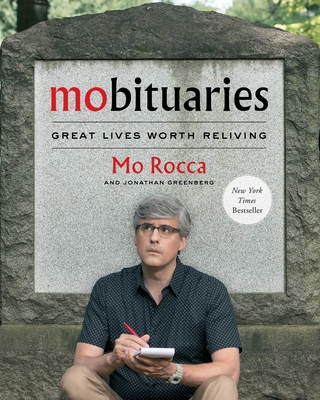 Description
---
From beloved CBS Sunday Morning correspondent and humorist Mo Rocca, an entertaining and rigorously researched book that celebrates the dead people who have long fascinated him.

Mo Rocca has always loved obituaries—reading about the remarkable lives of global leaders, Hollywood heavyweights, and innovators who changed the world. But not every notable life has gotten the send-off it deserves. His quest to right that wrong inspired Mobituaries, his #1 hit podcast. Now with Mobituaries, the book, he has gone much further, with all new essays on artists, entertainers, sports stars, political pioneers, founding fathers, and more. Even if you know the names, you've never understood why they matter...until now.

Take Herbert Hoover: before he was president, he was the "Great Humanitarian," the man who saved tens of millions from starvation. But after less than a year in the White House, the stock market crashed, and all the good he had done seemed to be forgotten. Then there's Marlene Dietrich, well remembered as a screen goddess, less remembered as a great patriot. Alongside American servicemen on the front lines during World War II, she risked her life to help defeat the Nazis of her native Germany. And what about Billy Carter and history's unruly presidential brothers? Were they ne'er-do-well liabilities…or secret weapons? Plus, Mobits for dead sports teams, dead countries, the dearly departed station wagon, and dragons. Yes, dragons.

Rocca is an expert researcher and storyteller. He draws on these skills here. With his dogged reporting and trademark wit, Rocca brings these men and women back to life like no one else can. Mobituaries is an insightful and unconventional account of the people who made life worth living for the rest of us, one that asks us to think about who gets remembered, and why.
About the Author
---
Mo Rocca is a correspondent for CBS Sunday Morning, host of The Henry Ford's Innovation Nation, and host and creator of the Cooking Channel's My Grandmother's Ravioli, in which he learned to cook from grandmothers and grandfathers across the country. He's also a frequent panelist on NPR's hit weekly quiz show Wait Wait…Don't Tell Me! Rocca spent four seasons as a correspondent on Comedy Central's The Daily Show with Jon Stewart. He began his career in TV as a writer and producer for the Emmy and Peabody Award–winning PBS children's series Wishbone. As an actor, Mo starred on Broadway in The 25th Annual Putnam County Spelling Bee. Rocca is the author of All the Presidents' Pets, a historical novel about White House pets and their role in presidential decision-making.
Praise For…
---
"Once again Mo Rocca delivers a funny and smart offering whilst punning off his first name." —Jon Stewart

"I'm dead keen to read it and alive with joy at not being included."—P. J. O'Rourke, author of, most recently, None of My Business

"In our fact-challenged times, Rocca's joyful tour through the "didja know"s of history is an unexpected antidote."—The New Yorker

"There's an attention to detail in Rocca's book (which he penned with college friend and current professor Jonathan Greenberg) that makes it readable in both long and short bursts....You can pick up the book for a few minutes or an entire afternoon and have a satisfying experience."— Forbes

"[Mo Rocca's obituaries have] a rare and welcome generosity of spirit…They revisit people who died long ago but were denied full appreciation. They're exhumation as celebration. —Frank Bruni, New York Times Opinion Columnist

"With wit, exuberance and a touch of mischievousness, Mobituaries provides fascinating facts for all ages."—Shelf Awareness

"Mo Rocca is like a box of chocolates; the more you taste him, the more you love him. And he just gets better and better. Read on and enjoy slowly." —Angie Dickinson, Golden Globe and Emmy award-winning actress

"Mo Rocca has given us a candy bowl of tasty morsels: tales of fascinating folks that we don't know enough about. It's a joy for curious minds, and addictive reading." —Walter Isaacson, #1 New York Times bestselling author of Steve Jobs and Leonardo da Vinci

"A spicy blend of humor, irony, wit, facts, fable, and heart." —Kirkus

"Impeccably researched, this book is packed with facts that are sure to give you a leg up at pub trivia.... a delightful, hilarious romp through history. Put this book in the hands of history buffs or anyone who loves a good laugh."—Booklist


Coverage from NPR