Learn Everything about Microgreens: The essential beginners' guide to growing nutrient and organic microgreens vegetable (Hardcover)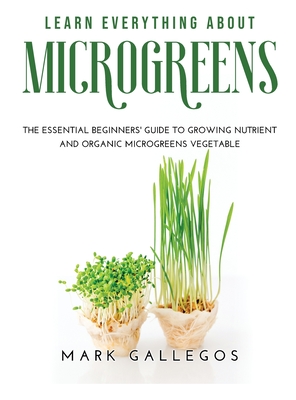 $67.99
Email or call for price.
Description
---
**55% OFF for Bookstores LAST DAYS***
Learn Everything about Microgreens
Your Customers Never Stop to Use this Awesome Book
Microgreens can be grown at home or work in a wide variety of containers and locations. It doesn't take much time or space once you have the seeds and the small amount of equipment you might need. With the right light, temperature and water, spaces like garages, basements, out buildings and other locations can serve well to grow microgreens for individuals and others. Basically all microgreens need is some water, growing medium, light and warmth, not too cold and not too hot. These tiny little greens can sometimes be grown on a windowsill that gets some light and warmth or under grow lights.
This Book Includes:
What are Microgreens and Why to Grow Them
Benefits of Microgreens
Material Equipment and Everything Needed
Microgreens Variety and How to Choose the Seeds
Top Microgreen You Must Grow
Sowing and watering
How to grow microgreens
Growing Techniques & Lighting Optimization
Tips and Tricks on How to Harvest.
Buy it Now and let your customers get addicted to this amazing book