Grow Food For Free: The sustainable, zero-cost, low-effort way to a bountiful harvest (Paperback)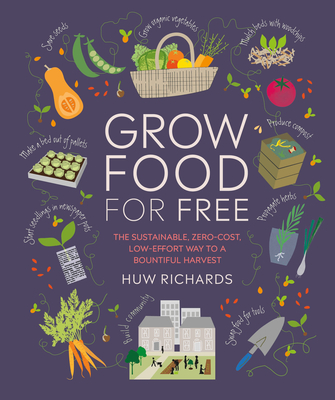 $21.99
Not in Stock... Available to ship in 3-5 days​
Description
---
Huw Richards set himself a challenge – to be self-sufficient by growing his own fruits and vegetables for free for a year. He succeeded, and now wants to help you do the same.

Can't afford a raised bed? Try repurposing an old wooden pallet.
Don't want to spend money on buying plants? Look in the fridge and your kitchen cupboards for food that you can plant.
Need a particular tool? Barter or borrow from a neighbor.
Don't have a garden? See if someone in your area has an untended patch you can turn into a well-loved veg plot.

Huw's Grow Food for Free has the inspiration and practical advice you need to start, grow, love, propagate and harvest your own fruits and vegetables organically and at zero-cost. This is real sustainability!
About the Author
---
Huw Richards With 15 years' experience growing organic, sustainable food in his family's garden, Huw Richards has seen that cost is often a barrier to people growing their own food, so he wants to help everyone grow fruit and veg sustainably and inexpensively. Huw's YouTube channel has over 168,000 subscribers and his videos have over 25 million views in total. In 2019, Huw released his first book Veg in One Bed, also published by DK.
Praise For…
---
"Millions of people are waking up to the reality of our industrial food system and are thirsty for an alternative. What many don't realize yet is the alternative can be growing right in their own yards. Hu[w]'s book, Grow Food For Free, is the resource that these millions need. Not only does it make gardening accessible for beginner's but it also makes it extremely affordable. This is THE guide for anyone who doesn't know where to start and is on a tight budget." – Rob Greenfield, environmental activist