COVID-19
We miss having customers in the store! However, we want our customers and staff to stay healthy and safe so are still in the process of opening safely.
While we work to open up, we're also here to meet your bookish needs! To buy new books, order through this website. If you're looking for used or rare books, browse our collection on Biblio. You can also give us a call to place an order or to check on the availability of a title.
We are unable to consider used book offers until after we re-open to the public.
Women: The National Geographic Image Collection (Hardcover)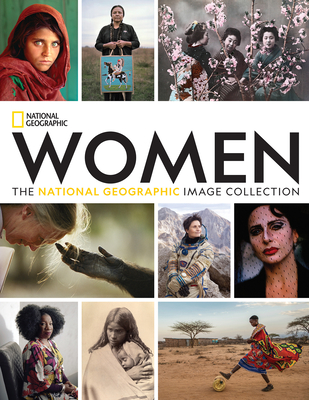 Description
---
This powerful photography collection, drawn from the celebrated National Geographic archive, reveals the lives of women from around the globe, accompanied by revelatory new interviews and portraits of contemporary trailblazers including Oprah Winfrey, Jane Goodall, and Christiane Amanpour.

#MeToo. #GirlBoss. Time's Up. From Silicon Valley to politics and beyond, women are reshaping our world. Now, in anticipation of the 100th anniversary of the 19th amendment, this bold and inspiring book from National Geographic mines 130 years of photography to showcase their past, their present, and their future. With 400+ stunning images from more than 50 countries, each page of this glorious book offers compelling testimony about what it means to be female, from historic suffragettes to the haunting, green-eyed "Afghan girl."
Organized around chapter themes like grit, love, and joy, the book features brand-new commentary from a wide swath of luminaries including Laura Bush, Gloria Allred, Roxane Gay, Melinda Gates, New Zealand prime minister Jacinda Ardern, and the founders of the #MeToo and Black Lives Matter movements. Each is accompanied by a bold new portrait, shot by acclaimed NG photographer Erika Larsen. The ultimate coffee table book, this iconic collection provides definitive proof that the future is female.
About the Author
---
One of the world's leading nonfiction publishers, NATIONAL GEOGRAPHIC has published more than 1,700 titles, featuring such categories as history, travel, nature, photography, space, science, health, biography, and memoir. A portion of its proceeds is used to fund exploration, conservation, and education through ongoing contributions to the work of the National Geographic Society.
Susan Goldberg is editorial director of National Geographic Partners and editor in chief of National Geographic. She is the 10th editor — and the first female editor— of the magazine, which published its first issue in 1888. Under her leadership, National Geographic has been honored with five National Magazine Awards, including the top prize for General Excellence in 2019. It was a finalist for the Pulitzer Prize for Feature Photography in 2019 and for Explanatory Reporting in 2017, and has received numerous other awards for its stories, photos, graphics, maps and design. Before National Geographic, Goldberg was an executive editor at Bloomberg News, and served as the top editor at the San Jose Mercury News and the (Cleveland) Plain Dealer. In 2019 she was named by Washingtonian magazine as one of Washington's most influential women. Goldberg lives in Washington, D.C., with her husband.
Praise For…
---
"My initial expectation was that I would read through this book and see famous women spanning time and the globe. In reality, I saw the average woman spanning time and the globe. Some images I recognized from National Geographic, mostly they were new to me and drew me in. These images are exquisite and the layout was perfect. The images depict women in different stages of their lives, the compilation of images and interviews comes across as inspiring and powerful. ⭐⭐⭐⭐⭐" –Instagram: @crystals_library
 
"…a brilliant look at women around the world, across the ages, in photos taken by the most creative photographers. It's a book to savor, and each time you open it up, you see something new that captures your attention." –Bookchickdi
 
"I've never met a National Geographic book I didn't like, and this one is no different. This collection of stunning photography also includes interviews with many of the influential women pictured. In one word: BEAUTIFUL!" –Literary Quicksand
"It's just an amazing collection of images and stories, it's inspirational from the first to the last page, every step of the way." –Stranded in Chaos
 
"It is so special, memorable, and inspiring, and my adjectives don't express well enough all the feelings this book induces. The photographs are as stunning as you expect from National Geographic. There are also interviews that will take your breath away. Varied cultures are represented, including some of the iconic photos you may have seen before in Nat Geo's vast collection. I am completely smitten and overwhelmed with and by this book." –Jennifer – Tar Heel Reader
 
"This collection provides a unique perspective on history by displaying herstory in raw and vivid detail, in a way only photographs can. You get the privilege of seeing a split second in the lives of these women, but the photos evoke much more than a mere sliver of their stories. The power of these pictures is in the resonating quality. The way they linger inside your brain until you begin to imagine the things that came before and after they were taken." –Amy's Book-et List
 
"There are photographs that made me smile and those that made me catch my breath and made me tear up and feel strong emotion. From the fanciful to the gritty, all aspects of women are captured." –Kahakai Kitchen
 
Oh my, gorgeousness!...beyond stunning. I fell in so deep with this beautiful tome chock full of images of women from all over the world. These photographs captured so much emotion, history, and livelihood - they were brilliant." –A Bookish Way of Life 
 
"It's a celebration and a gorgeous book to spend time reading through slowly, well worth checking out." –Instagram: @sixminutesforme