Love Your Enemies: How to Break the Anger Habit & Be a Whole Lot Happier (Paperback)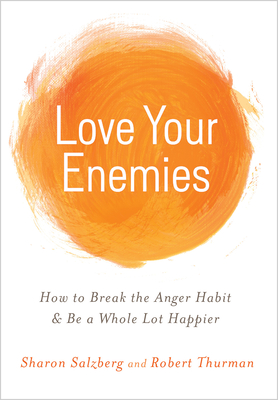 $16.99

Not in Stock... Available to ship in 3-5 days​
Description
---
When people and circumstances upset us, how do we deal with them? Often, we feel victimized. We become hurt, angry, and defensive. We end up seeing others as enemies, and when things don't go our way, we become enemies to ourselves.

But what if we could move past this pain, anger, and defensiveness?

Inspired by Buddhist philosophy, this book introduces us to the four kinds of enemies we encounter in life: the outer enemy, people, institutions, and situations that mean to harm us; the inner enemy, anger, hatred, fear, and other destructive emotions; the secret enemy, self-obsession that isolates us from others; and the super-secret enemy, deep-seated self-loathing that prevents us from finding inner freedom and true happiness.

In this practical guide, we learn not only how to identify our enemies, but more important, how to transform our relationship to them. Love Your Enemies teaches us how to:

- Break free from the mode of "us" versus "them" thinking
- develop compassion, patience, and love
- Accept what is beyond our control
- Embrace lovingkindness, right speech, and other core concepts

Throughout, authors Sharon Salzberg and Robert Thurman share stories and exercises for achieving finding peace within yourself and with the world. Drawing from ancient spiritual wisdom and modern psychology, Love Your Enemies presents tools that are useful for all readers.
About the Author
---
Sharon Salzberg, a teacher of meditation for more than 30 years, co-founded the Insight Meditation Society, the Forest Refuge, and the Barre Center for Buddhist Studies. Sharon's work is based on the practices of mindfulness and metta, (lovingkindness), the aim of which is to cultivate love and compassion both for ourselves and for others. Her books include Lovingkindness, Faith, The Force of Kindness, and the New York Times bestseller Real Happiness. Tenzin Robert Thurman is the Jey Tsong Khapa Professor of Indo-Tibetan Buddhist Studies at Columbia University, holding the first endowed chair of Buddhist Studies in the United States. He is the author of the bestseller Inner Revolution, as well as Anger, Infinite Life, and other popular books. He is also a translator of Tibetan texts. He serves as co-founder and president of Tibet House US, a nonprofit organization dedicated to preserving the endangered culture of Tibet.
Praise For…
---
"If life is a struggle, this book is your friend. Its whispered truths, like the first inklings of the dawn, bring both relief and recognition. Return to it time and again; its good humor and wise counsel are a balm for the soul."
—Mark Epstein, author of The Trauma of Everyday Life

"If there are two beings in the whole world whom I trust with my whole heart to give powerful, honest, kind, and deeply truthful teachings that can free us from burning in the mental anguish that is the 'new normal' in these anxious and fear-ridden times, it is Tenzin Bob Thurman and Sharon Salzberg. Having known both of them for many years, I can say that I am blessed that they are with me on this desert island called Earth."
—Krishna Das, musician and author of Chants of a Lifetime

"Brilliant! Love Your Enemies is possibly the most inspiring and liberating meditation on love ever written."
—Robert Holden, Ph.D., author of Shift Happens! and Loveability