Empire of Lies (Hardcover)
Weller Book Works was founded as Zion Bookstore nearly 90 years ago. Over the years we've been known as Sam Weller's Books and Sam Weller's Zion Bookstore. We are in our third generation of operations, owned and managed by Tony and Catherine Weller. Our staff includes four generations of Wellers and a remarkable team of book lovers. Our bookstore sells new, used and rare books in a space built to surprise and delight you in historic Trolley Square.

We're happy to answer your questions and help you select just the right book.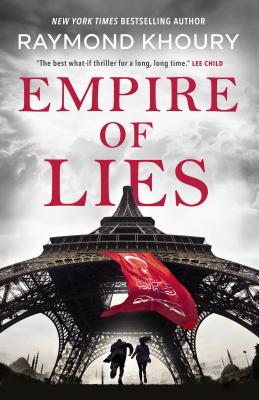 Description
---
Empire of Lies is a sweeping thriller in the tradition of The Man in the High Castle, Fatherland, and Underground Airlines from New York Times bestselling author Raymond Khoury.
"The best what-if thriller for a long, long time—makes you think, makes you sweat, and makes you choose, between what is and what might have been."—Lee Child
Istanbul, 1683: Mehmed IV, sultan of the Ottoman Empire, is preparing to lay siege to Vienna, capital of the Holy Roman Empire, when a mysterious visitor arrives in his bedroom—naked, covered in strange tattoos—to deliver a dangerous, world-changing message.
Paris, 2017: Ottoman flags have been flying over the great city for three hundred years, ever since its fall—along with all of Europe—to the empire's all-conquering army. Notre Dame has been renamed the Fatih Mosque. Public spaces are segregated by gender. And Kamal Arslan Agha, a feted officer in the sultan's secret police, is starting to question his orders.
Rumors of an impending war with the Christian Republic of America, attacks by violent extremists, and economic collapse have heightened surveillance and arrests across the empire. Tasked with surveying potential threats, Kamal has a heavy caseload—and conscience.
When a mysterious stranger—naked, covered in strange tattoos—appears on the banks of the Seine, Kamal is called in to investigate. But what he discovers is a secret buried in the empire's past, a secret the Sultan will do anything to silence.
With the mysterious Z Protectorate one step behind, Kamal, together with Nisreen—a fierce human rights lawyer—is caught up in a race across the empire and time itself—a race that could change their world, or destroy it.
Empire of Lies is being published as "The Ottoman Secret" in the UK.
About the Author
---
Raymond Khoury is the New York Times bestselling author of The Last Templar, The Sanctuary, The Sign, The Templar Salvation, The Devil's Elixir, Rasputin's Shadow, and The End Game.
His novels have been translated into more than forty languages and, in the case of The Last Templar, adapted into a comic book and an NBC television miniseries.
Praise For…
---
"Alternate histories don't get much better than this thought-provoking mind bender . . . Superior and plausible worldbuilding matches an ingeniously imaginative conceit. This ranks as a classic of the genre." -- Publishers Weekly, starred review
"The best what-if thriller for a long, long time— makes you think, makes you sweat, and makes you choose, between what is and what might have been." —Lee Child
"In Empire of Lies, Raymond Khoury has created an alternative history tale that will blow your mind. A story strung along the centuries that is thoroughly engrossing and one you will long remember." —David Baldacci
"Raymond Khoury's Empire of Lies is a tour de force in both storytelling and breadth of concept. It is not just an alternate history, but a cautionary tale that directly impacts and reflects upon our time. It is thrilling, disturbing, inspiring, and left me all too often in awe. This book will make you look at history—and your role in it—in an all new light. Be prepared to be forever impacted, forever changed." —James Rollins
"This is a masterpiece. A compelling saga, on a grand scale, with food for thought on every fascinating page. It's a breath of fresh air, an alternate history firing on all cylinders that will stay with you long after finishing. A stellar epic." —Steve Berry
"Alternate history . . . tons of adventure . . . this is real fun. Not just an intelligent, immersive thriller, but also a timely visit to a reality that easily could've been. So well researched and written it feels chillingly real. As thought-provoking as it is entertaining." —Brad Meltzer