Prix Fixe: Made in the USA by a Filipino: Memoirs and Recipes of the Traveling Chef (Hardcover)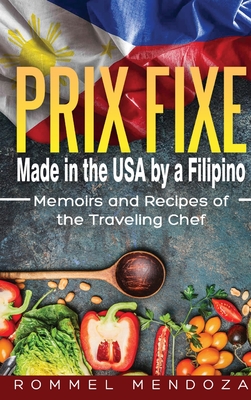 $30.95

Not in Stock... Available to ship in 3-5 days​
Description
---
"A professional cook who usually is in charge of a kitchen in a restaurant or dining facility; a person who prepares food to eat." My definition of a chef...I am just glorified dishwasher
"I have a German first name, two Spanish last names, and a European middle name. This is my full name but guess what, I am full blooded Filipino "
"I was only five years old when we left the Philippines and boy I did not realize the adventure my life was going to give me."
From a five year old boy born in the Philippines to being a VP of Culinary and Innovation for a prestigious food service company in the USA, Rommel Mendoza has embraced the journey his life has given him. In Prix Fixe: Made in the USA by a Filipino - Memoirs and Recipes of the Traveling Chef, Chef Mendoza recounts humorous childhood stories, adventurous narratives, touching accounts and his travels to many locations like Germany, Spain, and throughout the USA He shares his love for his family and heritage; for also included are his personal and favorite Filipino recipes and worldly cuisine he has learned during his personal and culinary escapades.
He recounts stories of when he was a young boy while living in the Philippines to sitting with his grandfather as his "Lolo" tells him the importance having a girlfriend. Other stories include, trips to the Puerto Rico, Mexico and a few countries in Europe. All with definitely put a smile on your face and maybe even make you laugh
Along with the delicious Filipino cuisine, Chef Mendoza included refreshing smoothie recipes. In the past, he owned and operated a small smoothie shop and wanted to include a several of his favorite recipes.
Sit back and enjoy the stories, escapades, and recipes of Rommel Mendoza, the Traveling Chef.