Baba's Kitchen: Ukrainian Soul Food: with Stories From the Village, third edition (Paperback)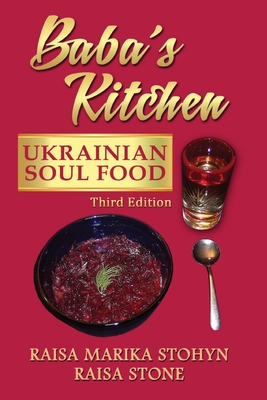 $29.99

Not in Stock... Available to ship in 3-5 days​
Description
---
-Ukrainian Canadian Congress Special Pick Top 3 Ukrainian Cookbook & Cultural Book for the past two years
Click on "Look Inside" at top of book cover photo for contents.
"Your book has us all laughing hysterically & uncontrollably Daikoyu=thank you " Capital Ukrainian Festival, Ottawa
"Baba's Kitchen is a good companion to Savella Stechishin's book Traditional Ukrainian Cookery]. We will be presenting copies as awards at our year end dinner.." Los Angeles Ukrainian Cultural Centre
In a rollicking, entertaining read, Baba's Kitchen will lead you into the complex soul of Eastern Europe's Indigenous people.
Ukrainian-Canadian Raisa Stone spent decades collecting outrageous stories and life advice, plus 200 recipes and home remedies from survivors of Soviet and Nazi terror---including her family. Raisa's narrator, Baba, is a composite of these invincible souls.
Ukraine has been continuously inhabited by civilized, immensely inventive people for 44,000 years.
For excerpts, video/audio clips and more, visit: www.ukrainiansoulfood.ca
Ukrainians: first tamed horses, invented pants (for riding ), the bow and arrow, built homes from mammoth bone & pyramids older than Egypt's, & created Europe's first democratic constitution.
Shamanic practices that sparked the original werewolf and Amazon legends (the latter documented by Greek physician Hippocrates) combine with recipes & customs reaching back to the Neolithic era.
_____________
Compared to erotic games in the village bath & shoplifting live turkeys in your bloomers, immigrant life is beyond boring. So Baba (Grandma) is brewing up Old Country customs in her kitchen.
She'll teach you to make delicious Ukrainian dishes the traditional & The Lazy Way, sabotage frenemies with garlic, & utter chilling Slavic curses such as, "May you be kicked by a duck "
Between tales of magical encounters with Nature spirits & steaming bowls of borshch is the true confession of the author's elderly neighbour: she murdered her abusive husband.
Imagine a mouth watering Honey Onion Sauce that recalls competing with cave bears and wild bees, and the seductive magic of preparing sweet delights for the Apple Harvest Blessing.
200 traditional Ukrainian recipes and home remedies, taught step by step as if grandma were at your side. In black & white text:
Borshch, including Vegetarian
Holubtsi (Cabbage Rolls)
Varenyky (Perogies)
Honey Cake
Makivnyk
Traditional Holiday recipes for Easter & Christmas
Kolach: Circle of Life Bread
*Warning: 18+ Restricted*
Wicked acts with honey and raspberries, pirates, cowboys, Kozaks, bald men, bad boys and mounted police officers.
You'll laugh, you'll cry
_____________________________________
"I enjoy reading the stories as well as learning authentic Ukrainian dishes to cook for my family. I will be sharing these recipes with my daughters and teaching them how to cook A lovely book with something for everyone. You feel like Baba is turning the pages with you " Mattie Romanyshyn, Belfield, South Dakota
"I found many recipes that I had been searching for since my time in the Carpathians in 2010. The one I looked for the most was a mushroom soup that to my pleasant surprise was here. I have cooked for friends and family since I received the book and 4 people have loved it so much they have ordered copies of their own. The humor is Ukrainian and part of what made me fall in love with Ukraine." Roberto Marquez, New Mexico
About the Author
---
Visit these websites for Baba's free newsletter, Department Store and videos: www.ukrainiansoulfood.ca www.reisastone.com Author Raisa Stone ate pureed borshch as baby food & cut dough circles for varenyky (perogies) as soon as she could reach the table top. She spent 50 years collecting outrageous stories from survivors of Soviet & Nazi oppression, including her family. She is a former Features writer for The Winnipeg Gazette and instructor for the Victoria School of Writing. Her poetry was chosen by national Ukrainian magazine Nasha Doroha to commemorate the Chornobyl disaster. She attended classes at Winnipeg's Ukrainian National Home throughout childhood. Raisa's passion for promoting Ukrainian culture comes not only from its proud richness. Her father was the only member of his family to escape Stalinist Ukraine. He then landed in a Nazi labor camp, from where he was liberated to Canada. Raisa is a professional singer, storyteller & Animal Intuitive. Chicken Soup for the Soul regularly publishes her stories. She is also the author of Rosie's Rescue, a book based upon the Ukrainian creation myth.