Beautiful FLowers Coloring Book For Adults: An Adult Coloring Book with Flower Collection, Stress Relieving Flower Designs for Relaxation, Featuring S (Paperback)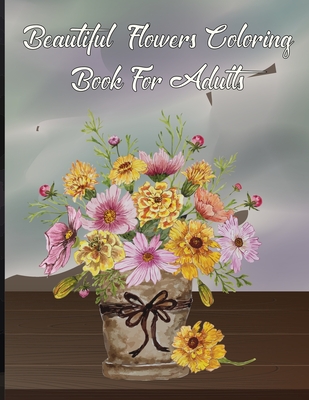 $12.99
Email or call for price.
Description
---
Unleash your creativity and brush up on your botany skills with this delightful adult coloring book
Are you looking for 50 of the most beautiful and vibrant flowers? Want to practice relaxation while you breathe life and color into bountiful bouquets, wonderful wreaths, and spectacular succulents? Then it's time to try this coloring book
The ideal gift for a flower-loving friend or family member, coloring is also scientifically proven to spur your creativity, help you focus and destress, and promote the countless healing benefits of meditative mindfulness to drastically boost your wellbeing.
50 ADULT COLORING PAGES of beautiful flowers, floral designs, and bouquets. Flowers include roses, sunflowers, orchids, peonies, tulips, daisies, butterflies, and more
◆ Simple flower coloring pages for quick fun, or more complex pages to extend your coloring enjoyment.
◆ RELAX, RESET, and RELIEVE. Coloring pages designed with stress relief in mind.
◆ REFLECTION. Remind yourself of all the natural beauty out there. A little slice of the world that has never faded in it's meaning. Flowers and plants will forever be the symbol of life.
Books included:
Beautiful Flowers: , featuring a collection of roses, sunflowers, tulips, poppies, and all the flowers that everyone loves
Spring Flowers: , showcasing the wonders of meadows and country flowers as the world wakes up from winter
Winter Florals: , with holly, pinecones, berries and more to show that winter is a wonderful time for flowers too
Wildflowers: , filled to the brim with cornflowers, thistles, monks hood, viola odorata and more
With professional illustrations, single-sided paper to prevent bleed-through, and images ideal for all pen, pencil and marker types, now you can explore the world of flowers like never before
Scroll up and buy now to explore the world of flowers today
MAKES A GREAT GIFT
◆ This adult coloring book is great for holidays such as:
- Mother's Day
- Christmas
- Easter
- Valentine's Day
- Birthdays
- Anniversaries
- Gift exchanges