Timber Press Pocket Guide to Hostas (Paperback)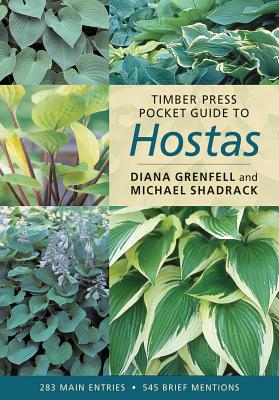 $19.95
Email or call for price.
Description
---
Boasting diverse leaf shape, size, color, and texture, it is no wonder that hostas continue to reign as the most popular perennial plants in North America. Not only are they the supreme plant for shade, but they also can be used in the landscape either as striking specimen plantings or as accommodating companion plants. Few pests bother them, and little maintenance is required, making hostas even more attractive to busy gardeners.
Each year a staggering number of new hostas are introduced. To assist gardeners and landscapers in selecting the right hosta for a particular situation, veteran plantswoman Diana Grenfell has teamed up with distinguished photographer Mike Shadrack in selecting 280 of the best hostas. Ranging from tried and true favorites to cutting edge newcomers bursting with potential, each plant has been handpicked for its superb performance in the landscape. An additional 545 hostas are briefly mentioned.
About the Author
---
Diana Grenfell is co-founder of the British Hosta and Hemerocallis Society and a life member of the American Hosta Society. With her husband, Roger Grounds, she is former co-owner of Apple Court, a British nursery specializing in hostas, daylilies, and grasses. Diana has done much to raise the profile of hostas throughout the world, broadcasting, lecturing, and writing many authoritative books and articles on the plant. Her garden in Gloucestershire is home to a National Plant Collection of miniature hostas.
Michael Shadrack is a photographer and active member of the British Hosta and Hemerocallis Society and the American Hosta Society. He regularly lectures in North America and Europe, and is an avid hybridizer. With his wife, Kathy Guest Shadrack, he keeps five distinct gardens at Smug Creek, New York. Learn more at smugcreekgardens.com. 
Praise For…
---
"One of the most important reference books a gardener can own."
"This compact book...describes 280 old and new cultivars, with ample advice for selecting and caring for them."
"I would certainly recommend this book for those, like me, who have been severely bitten by the hosta bug."