America's Holy Ground: 60 Faithful Reflections on Our National Parks (Paperback)
Weller Book Works was founded as Zion Bookstore nearly 90 years ago. Over the years we've been known as Sam Weller's Books and Sam Weller's Zion Bookstore. We are in our third generation of operations, owned and managed by Tony and Catherine Weller. Our staff includes four generations of Wellers and a remarkable team of book lovers. Our bookstore sells new, used and rare books in a space built to surprise and delight you in historic Trolley Square.

We're happy to answer your questions and help you select just the right book.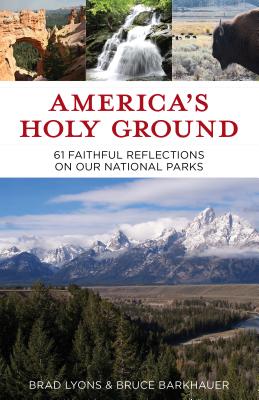 Description
---
America's 60 national parks are beloved around the world for their inspiring natural beauty and unmatched diversity. They can also be places to reconnect with God and the sacred. National parks engage our five senses, but engaging a sixth sense, the sense of the holy, will transform your national park experience. In America's Holy Ground: 60 Faithful Reflections on Our National Parks, dive deeper into a unique aspect of each park, from Acadia to Zion, and reframe how you think about the parks and your faith. Connections, sabbath, reflection, perspective, beginnings, art, restoration - these are just a few of the themes you'll encounter on your national park journey. A trio of questions with each entry will help you see the bigger picture of your life and new ways to approach your relationship with God, your community, and your faith. Whether you're on the road or at home in your reading nook, think about your favorite national park in a whole new way.
About the Author
---
Brad Lyons (Author) Brad Lyons coauthored the upcoming America's Holy Ground: A National Parks Devotional from Chalice Press. The Oklahoma native and former journalist is the extremely lucky and proud father of three kind, funny, and smart kids. He serves as president and publisher of CBP/Chalice Press.Bruce Barkhauer (Author) Bruce Barkhauer teaches generosity for a living. A noted speaker, educator, consultant, and writer, Barkhauer brings creativity, energy, fresh, and sometimes humorous thought into conversations about stewardship as a practice of faith and spiritual discipline. Barkhauer served as a parish pastor for 25 years before accepting a call to serve as the first Minister for Faith and Giving for the Christian Church (Disciples of Christ), a traditional mainline denomination, headquartered in Indianapolis. He believes that caring for the earth so that it may flourish is a divinely instituted human vocation and that our very lives depend on successfully carrying out this prime-directive to manage our resources well. He is married to Laura, and they share three children and three grandchildren.