COVID-19
Weller Book Works is closed to the public. But Catherine and Tony are working behind closed doors to keep the store ready to open when we're able.
We're still taking and filling orders via this website for new books or Biblio for used and rare books. At this time we can offer curbside pick-up or shipping only.
We are unable to consider used book offers until after we re-open to the public.
Cinders (Posthumanities #28) (Paperback)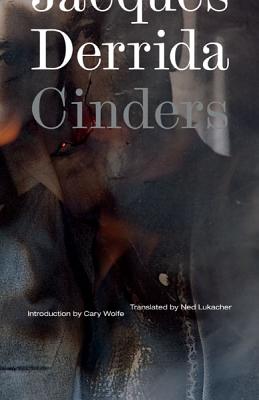 $17.95
Not in Stock... Available to ship in 3-5 days​
Staff Reviews
---
Perhaps you've heard of "deconstruction:" an approach to writing, thinking, and truth that pushed philosophy in new directions. Derrida was the philosopher who crafted this methodology. Most of his work is loquacious and complex, but Cinders is accessible and serves as the best introduction to this important thinker's work. Derrida poetically self-analyzes his major arguements, his style, and his thinking, laying out the important features of his philiosophy for professionals and newcomers alike. It reads like a dance; pirouetting around illuminations of a radical kind.
— From
Holden's Picks
Description
---
"More than fifteen years ago," Jacques Derrida writes in the prologue to this remarkable and uniquely revealing book, "a phrase came to me, as though in spite of me. . . . It imposed itself upon me with the authority, so discreet and simple it was, of a judgment: 'cinders there are' (il y a là cendre). . . . I had to explain myself to it, respond to it—or for it."
In Cinders Derrida ranges across his work from the previous twenty years and discerns a recurrent cluster of arguments and images, all involving in one way or another ashes and cinders. For Derrida, cinders or ashes—at once fragile and resilient—are "the better paradigm for what I call the trace—something that erases itself totally, radically, while presenting itself."
In a style that is both highly condensed and elliptical, Cinders offers probing reflections on the relation of language to truth, writing, the voice, and the complex connections between the living and the dead. It also contains some of his most essential elaborations of his thinking on the feminine and on the legacy of the Holocaust (both a word—from the Greek hólos, "whole," and kaustós, "burnt"—and a historical event that invokes ashes) in contemporary poetry and philosophy. In turning from the texts of other philosophers to his own, Cinders enables readers to follow the trajectory from Derrida's early work on the trace, the gramma, and the voice to his later writings on life, death, time, and the spectral.
Among the most accessible of this renowned philosopher's many writings, Cinders is an evocative and haunting work of poetic self-analysis that deepens our understanding of Derrida's critical and philosophical vision.
About the Author
---

Jacques Derrida (1930–2004) was a French philosopher associated with the poststructuralist and postmodernist movements. Called the most famous philosopher of our time, he is most well known for developing the concept of deconstruction. He published more than forty books, including Of Grammatology, Writing and Difference, and Speech and Phenomena.

Cary Wolfe is Bruce and Elizabeth Dunlevie Professor of English at Rice University. His books include Zoontologies and What Is Posthumanism?, both from Minnesota.

Ned Lukacher is professor of English at the University of Illinois at Chicago. He is the author of Primal Scenes: Literature, Philosophy, Psychoanalysis.