A Jensen Family Christmas (Mass Market)
Weller Book Works was founded as Zion Bookstore nearly 90 years ago. Over the years we've been known as Sam Weller's Books and Sam Weller's Zion Bookstore. We are in our third generation of operations, owned and managed by Tony and Catherine Weller. Our staff includes four generations of Wellers and a remarkable team of book lovers. Our bookstore sells new, used and rare books in a space built to surprise and delight you in historic Trolley Square.

We're happy to answer your questions and help you select just the right book.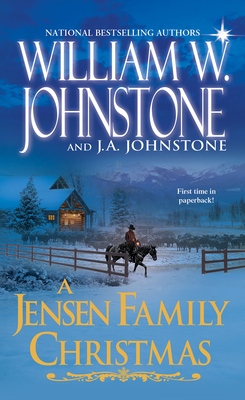 Description
---
AN AMERICAN FAMILY. A JOHNSTONE TRADITION.
 
The legendary members of the Jensen family gather together at the Sugarloaf Ranch for one Christmas homecoming they'll never forget—if they live through it . . .
 
Smoke Jensen looks forward to spending a quiet holiday with the family. But an unexpected arrival from south of the border has him reaching for his guns, defending his land—and risking everything he loves . . .
 
Sally Jensen strikes up a friendship with a lovely Mexican woman—who turns out to be married to the mysterious stranger plotting to steal her ranch . . .
 
Ace and Chance prepare to fight a gang of outlaws trying to kill the man who raised them—but they're going to need the help of the father they never knew . . .
 
Luke Jensen rescues three young children orphaned in a shootout—and heads home for a surprise reunion with children of his own . . .
 
Preacher catches the eye of a beautiful and beguiling widow—but he can't decide if she wants to marry him, kill him, or both . . .
 
Every Christmas season, the Jensens pray for peace on earth. But then, for the Jensen family, danger is just another holiday tradition.  
Live Free. Read Hard.
About the Author
---
William W. Johnstone is the New York Times and USA Today bestselling author of over 300 books, including the series THE MOUNTAIN MAN; PREACHER, THE FIRST MOUNTAIN MAN; MACCALLISTER; LUKE JENSEN, BOUNTY HUNTER; FLINTLOCK; THOSE JENSEN BOYS; THE FRONTIERSMAN; SAVAGE TEXAS; THE KERRIGANS; and WILL TANNER: DEPUTY U.S. MARSHAL. His thrillers include BLACK FRIDAY, TYRANNY, STAND YOUR GROUND, and THE DOOMSDAY BUNKER. Visit his website at www.williamjohnstone.net or email him at dogcia2006@aol.com.
 
Being the all-around assistant, typist, researcher, and fact checker to one of the most popular western authors of all time, J.A. Johnstone learned from the master, Uncle William W. Johnstone.  
 
He began tutoring J.A. at an early age. After-school hours were often spent retyping manuscripts or researching his massive American Western History library as well as the more modern wars and conflicts. J.A. worked hard—and learned.
 
"Every day with Bill was an adventure story in itself. Bill taught me all he could about the art of storytelling. 'Keep the historical facts accurate,' he would say. 'Remember the readers, and as your grandfather once told me, I am telling you now: be the best J.A. Johnstone you can be.' "