Nerves of Steel: How I Followed My Dreams, Earned My Wings, and Faced My Greatest Challenge (Hardcover)
Weller Book Works was founded as Zion Bookstore nearly 90 years ago. Over the years we've been known as Sam Weller's Books and Sam Weller's Zion Bookstore. We are in our third generation of operations, owned and managed by Tony and Catherine Weller. Our staff includes four generations of Wellers and a remarkable team of book lovers. Our bookstore sells new, used and rare books in a space built to surprise and delight you in historic Trolley Square.

We're happy to answer your questions and help you select just the right book.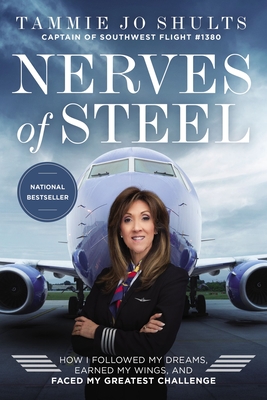 Description
---
Nerves of Steel is the captivating true story of Tammie Jo Shults's remarkable life--from growing up the daughter of a humble rancher, to breaking through gender barriers as one of the Navy's first female F/A-18 Hornet pilots, to safely landing the severely crippled Southwest Airlines Flight 1380 and helping save the lives of 148 people.
Tammie Jo Shults has spent her entire life loving the skies. Though the odds were against her, she became one of the few female fighter pilots in the Navy. In 1994, after serving her country honorably for eight years, Tammie Jo left the Navy and joined Southwest Airlines in the early 1990's.
On April 17, 2018, Tammie Jo was called to service once again. Twenty minutes into a routine domestic flight, Captain Shults was faced with the unthinkable--a catastrophic engine failure in the Boeing 737 caused an explosion that punctured hydraulic lines and severed fuel lines, tearing away sections of the plane, puncturing a window, and taking a woman's life. Captain Shults and her first officer, Darren Ellisor, struggled to stabilize the aircraft.
Drawing deeply from her well of experience, Tammie Jo was able to wrestle the severely damaged 737 safely to the ground. Not originally scheduled for that flight, there is no doubt God had prepared her and placed her right where she needed to be that day.