The Bottom of the Pool: Thinking Beyond Your Boundaries to Achieve Extraordinary Results (Hardcover)
Weller Book Works was founded as Zion Bookstore nearly 90 years ago. Over the years we've been known as Sam Weller's Books and Sam Weller's Zion Bookstore. We are in our third generation of operations, owned and managed by Tony and Catherine Weller. Our staff includes four generations of Wellers and a remarkable team of book lovers. Our bookstore sells new, used and rare books in a space built to surprise and delight you in historic Trolley Square.

We're happy to answer your questions and help you select just the right book.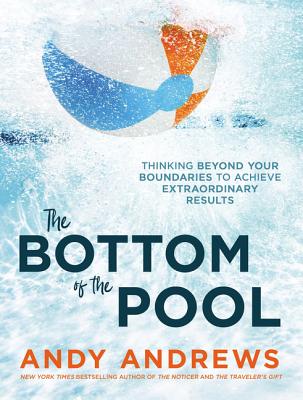 $19.99
Not in Stock... Available to ship in 3-5 days​
Description
---
This is how it's done. This is why it's done this way. This is the result you can expect if you do it.
These three pieces of information inform a conclusion about every part of each of our lives. Yet it is these three pieces of information that most often set an insidious trap--a trap that has held the imaginations of generations captive to the belief that because they are doing the best they can do, they are accomplishing the best that can be done. And while each of these three statements are true, not one of them is the truth.
Dive deeper with bestselling author Andy Andrews as he shares his unique philosophy regarding foundational thinking. Through his unique and captivating storytelling, Andy helps you search for the reality that lies beyond the boundaries established in the name of "best practices," "industry standards," or "the way things are done." For it's at the bottom of the pool that you discover a pathway to extraordinary results that most people in your position do not even know are possible.
In the first year of our relationship with Andy Andrews, Fairway doubled its business volume - from $5.4 billion to $11.2 billion. The second year with Andy, we cracked $17 billion, and the third year we moved past $22 billion." - Steve Jacobson