Dreamworking: How to Listen to the Inner Guidance of Your Dreams (Paperback)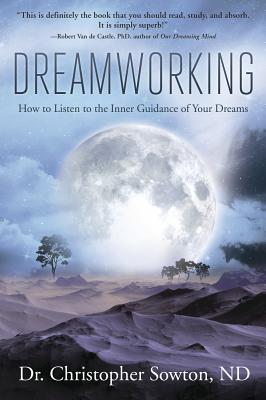 $19.99
Email or call for price.
Description
---
Your dreams are trying to guide you, but do you understand what they're saying? Dreamworking provides a practical process for connecting your dreams to your life, helping you understand the profound requests that come while you sleep.
Join Christopher Sowton as he shares five steps to receiving the inner guidance of our dreams: Catch, Clarify, Orient, Connect, Respond. With hands-on techniques, examples from the author's psychotherapy practice, and guidance for working with fourteen common dream motifs, this book shows how to facilitate dreamwork for psychological and spiritual transformation. Whether a dream wants you to take action, improve your understanding, or make a specific change, you can rest assured that it's leading you to new perspectives and fulfilling resolutions.
Praise:
"Christopher Sowton has presented a book that is not only thoroughly original but incredibly comprehensive in both its width and its depth. If you apply the method so well articulated in Dreamworking, your life may never be the same again--and you will celebrate the change " --Stanley Krippner, PhD, co-author of Extraordinary Dreams
"In his excellent guidebook for helping people understand dreams, their own or those of clients, Dr. Christopher Sowton provides a precious map of the territory."?--Patricia Garfield, PhD, author of Creative Dreaming
About the Author
---
Dr. Christopher Sowton (Toronto, Ontario) holds a B.A. from the University of Toronto and a Doctor of Naturopathic Medicine (N.D.) from the Canadian College of Naturopathic Medicine. He is licensed as a Registered Psychotherapist (RP) in the Province of Ontario and has been a teacher at CCNM since 1990. Additionally, he teaches dreamwork seminars for health care practitioners. Christopher runs a private health care practice, specializing in naturopathy, homeopathy, and counseling.