The Jewish Cookbook (Hardcover)
Weller Book Works was founded as Zion Bookstore nearly 90 years ago. Over the years we've been known as Sam Weller's Books and Sam Weller's Zion Bookstore. We are in our third generation of operations, owned and managed by Tony and Catherine Weller. Our staff includes four generations of Wellers and a remarkable team of book lovers. Our bookstore sells new, used and rare books in a space built to surprise and delight you in historic Trolley Square.

We're happy to answer your questions and help you select just the right book.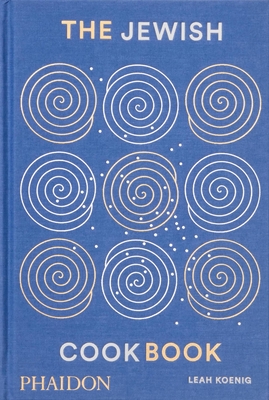 Description
---
A rich trove of contemporary global Jewish cuisine, featuring hundreds of stories and recipes for home cooks everywhere
The Jewish Cookbook is an inspiring celebration of the diversity and breadth of this venerable culinary tradition. A true fusion cuisine, Jewish food evolves constantly to reflect the changing geographies and ingredients of its cooks. Featuring more than 400 home-cooking recipes for everyday and holiday foods from the Middle East to the Americas, Europe, Asia, and Africa - as well as contemporary interpretations by renowned chefs including Yotam Ottolenghi, Michael Solomonov, and Alex Raij - this definitive compendium of Jewish cuisine introduces readers to recipes and culinary traditions from Jewish communities the world over, and is perfect for anyone looking to add international tastes to their table.
About the Author
---
Leah Koenig's writing and recipes have appeared in The New York Times, The Wall Street Journal, New York Magazine's Grub Street, Saveur, Epicurious, Food52, TASTE, Departures, and Tablet magazine, among other publications. She is the author of 6 cookbooks including Modern Jewish Cooking and The Little Book of Jewish Feasts. In addition to writing, Leah leads cooking demonstrations and classes all over the world. She lives in Brooklyn, New York with her husband and two kids.
Praise For…
---
Named a "Best New Cookbook" of Fall 2019 by Bon Appetit, Food & Wine, Eater, The Kitchn, and Forbes
"A tome spanning the Jewish culinary canon... vibrant, exciting and hunger-inducing."—The Washington Post
"For over 10 years, Leah Koenig has been documenting the stories and recipes behind Jewish cuisine-and The Jewish Cookbook is a massive culmination of that research... The book shows just how diverse and pervasive Jewish cuisine is."—Food & Wine Online
"The best Rosh Hashanah recipes...[from] a gifted professional recipe developer."—The LA Times
"In this outstanding and comprehensive cookbook, Koenig explores Jewish cuisine from around the world... Koenig is a graceful writer [and] this is an excellent, thoughtful entry in Phaidon's expanding lineup of accessible cookbooks."—Publishers Weekly
"This book amply, and fascinatingly, represents the breadth of the cuisine."—Food52
"Gorgeous."—Reader's Digest
"The Jewish Cookbook shows an appreciation for heritage cuisine... With recipes that span the globe, [it] will empower readers to try something new on a whim rather than feeling overwhelmed by an ingredient list - and maybe even learn a little Jewish culture along the way."—Eater
"Jewish food encompasses a vast range of global ingredients and traditions that have spread far beyond their places of origin. This cookbook collects an astonishing amount of them."—Chowhound
"Koenig is an unparalleled expert in the Jewish food writing space. Leah's work speaks for herself-over the past 15 years she's transitioned from Jewish food writing's lady-in-waiting to true royalty."—Adeena Sussman, author of Sababa: Fresh, Sunny Flavors from My Israeli Kitchen
"Leah Koenig stepped up to the proverbial plate to provide a definitive delve into the art of Jewish cookery in this blue-hued bumper-sized beauty by Phaidon. The result is a 400 recipe-strong romp that plucks prandial delights from Bubba's back-catalogue and from Manhattan to the Middle East. Ideal fodder for those looking to learn their kibbeh from their knish."—Monocle weekly newsletter
"Every recipe-like a superhero-comes with an origin story. Koenig discusses the ways in which Jews have adapted the foods of their adoptive homes, resulting in the kind of cookbook that's fun to read even if you store shoes in your oven."—Tablet
"An Aladdin's café of Jewish dishes... The book charts the diaspora of the cuisine as it has travelled around the world and over many generations."—The Jewish Telegraph
"In an expansive new cookbook, Leah Koenig takes on the Jewish culinary canon [and] offers a taste of home-wherever that may be."—The Forward
"These walloping 432 pages are filled with a terrific and diverse volume of recipes."—Hadassah Magazine
"Simple meals sit side by side with celebratory feast dishes, showcasing Jewish food at its best."—Kavey Eats blog
"The ultimate Jewish cookbook... A vast, luscious array of Jewish recipes from around the world."—Jewish Boston