COVID-19
We miss having customers in the store! However, we want our customers and staff to stay healthy and safe so are still in the process of opening safely.
While we work to open up, we're also here to meet your bookish needs! To buy new books, order through this website. If you're looking for used or rare books, browse our collection on Biblio. You can also give us a call to place an order or to check on the availability of a title.
We are unable to consider used book offers until after we re-open to the public.
Signature Dishes That Matter (Hardcover)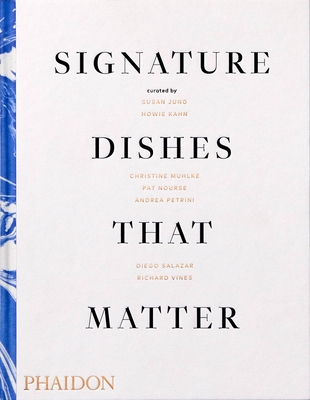 $49.95
Not in Stock... Available to ship in 3-5 days​
Description
---
A global celebration of the iconic restaurant dishes that defined the course of culinary history over the past 300 years
Today's food-lovers often travel the globe to enjoy the food of acclaimed chefs. Yet the tradition of seeking out unforgettable dining experiences goes back centuries, and this gorgeous book reveals the closely held secrets behind the world's most iconic recipes - dishes that put restaurants on the map, from 19thcentury fine dining and popular classics, to today's most innovative kitchens, both high-end and casual. Curated by experts and organized chronologically, it's both a landmark cookbook and a fascinating cultural history of dining out.
The narrative texts are by Christine Muhlke, the foreword by Mitchell Davis, and illustrations by Adriano Rampazzo
About the Author
---
Curated by an award-winning international team, including: Susan Jung, senior food and wine editor of the South China Morning Post; Howie Kahn, writer and contributing editor for WSJ magazine; Christine Muhlke, writer and editor-at-large at Bon Appétit; Pat Nourse, culinary writer and critic; Andrea Petrini, writer, critic, and culinary creative; Diego Salazar, journalist and editor; and Richard Vines, chief food critic at Bloomberg.
Praise For…
---
THE TIMES FOOD BOOK OF THE YEAR 2019
"A definitive canon of cuisine."—Mitchell Davis
"A really interesting journey through the history of gastronomy. It is an honor to be featured in the book."—Andoni Luis Aduriz, Mugaritz
"Part recipe book, part travel guide and part encyclopaedia, this hefty tome attempts to identify the 200 key dishes that have shaped modern gastronomy. We start with the arrival of ice cream for the masses, with the opening of Le Procope café in Paris in 1686, and progress via Auguste Escoffier's peach melba at the Savoy hotel in the 1890s and Heston Blumenthal's snail porridge to end with Tomos Parry's whole grilled turbot at Brat in London. The ultimate foodie's I-Spy book."—Tony Turnbull, The Times
"It's a fascinating, easy read about the origins of dishes that have become part of the culinary vernacular... It's a celebration of dishes that define cultures, eras and peoples."—The Globe & Mail
"Traces the surprising histories of famous dishes."—Atlas Obscura
"Engrossing and cheerfully illustrated... Curated by culinary heavy hitters."—Galerie Magazine
"In this essential lesson in culinary history... Devotees of food history will want to order a copy of this one post-haste."—Vogue Online
"A lavish selection of stories."—The Sunday Times
"A handsome, heavyweight volume with marbled endpapers and gilt lettering, Signature Dishes That Matter falls somewhere between a cookbook and an encyclopaedia... Illustrated in understated watercolour - a quaint analogue antidote to the proliferation of #foodporn on social media."—The Telegraph
"The fascinating compendium of dishes through the ages focuses on food actually deserving of that overused word "iconic"."—The Sunday Times (Ireland)
"The gastronomic equivalent of an author finding their voice, a signature dish can often be, according to writer Mr Mitchell Davis, shorthand for a chef's particular style... Spanning different eras, geographies and genres, it paints an effective portrait of food culture through the ages."—Mr Porter
"Who's to blame for Hawaiian pizza? Find out in this new tome."—Metropolitan
"A history of gastronomy, told through the most iconic restaurant dishes from the past three centuries... It is both a landmark cookbook and a fascinating cultural history of dining out."—Yes Chef magazine
"Part recipe book, part travel guide and part encyclopaedia of gastronomy."—Countryside La Vie
"Part cookbook, part travel guide, part historical record this fascinating book charts the most iconic dishes from the past three centuries... Each dish is printed alongside a hand-drawn illustration, making it a stylish coffee table book, too."—BBC Good Food
"Full of nuggets of trivia."—Stylist
"A truly gorgeous book to own and to give to that friend or relative who dines out like a collector... Illustrated clearly but gently in colour by the artist Adriano Rampazzo... Entries rooted in simple, rustic combinations [are] brilliant ideas that have influenced generations in both home and professional kitchens."—Spectator