Great Women Artists (Hardcover)
Weller Book Works was founded as Zion Bookstore nearly 90 years ago. Over the years we've been known as Sam Weller's Books and Sam Weller's Zion Bookstore. We are in our third generation of operations, owned and managed by Tony and Catherine Weller. Our staff includes four generations of Wellers and a remarkable team of book lovers. Our bookstore sells new, used and rare books in a space built to surprise and delight you in historic Trolley Square.

We're happy to answer your questions and help you select just the right book.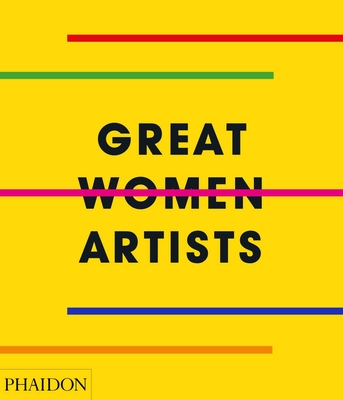 Description
---
Five centuries of fascinating female creativity presented in more than 400 compelling artworks and one comprehensive volume
The most extensive fully illustrated book of women artists ever published, Great Women Artists reflects an era where art made by women is more prominent than ever. In museums, galleries, and the art market, previously overlooked female artists, past and present, are now gaining recognition and value. Featuring more than 400 artists from more than 50 countries and spanning 500 years of creativity, each artist is represented here by a key artwork and short text. This essential volume reveals a parallel yet equally engaging history of art for an age that champions a greater diversity of voices.
"Real changes are upon us, and today one can reel off the names of a number of first-rate women artists. Nevertheless, women are just getting started."—The New Yorker
About the Author
---
Introductory essay by Rebecca Morrill
Artist texts by James Cahill, Louisa Elderton, Elizabeth Fullerton, Orit Gat, Ferren Gipson, PL Henderson, Katy Hessel, Catalina Imizcoz, Louisa Lee, Henry Little, Helen Luckett, Kathleen Madden, Henry Martin, Tom Melick, Rebecca Morrill, Yates Norton, Cleo Roberts, Matthew Price, Gabrielle Schwartz, Robert Shane, Mitch Speed, David Trigg, Ellen Mara De Wachter
Praise For…
---
"A comprehensive tome featuring over 400 pioneering female talents across half a millennium-all of whom made an indelible mark on the art world."—Galerie Magazine
"Interview believes every damn day is worthy of celebrating great women, and Great Women Artists makes it easy... If only all our college art history textbooks were this much fun."—Interview Magazine Online
"Phaidon are helping to redress the balance with this encyclopaedic volume that examines 500 years of great art by great women artists... no self respecting art lover should be without a copy."—Culture Whisper
"...A wide-ranging collection of exceptional work by women."—O, The Oprah Magazine
"An epic survey."—Harper's Bazaar
"There is a wonderful discovery aspect to this book... This book not only celebrates women artists, but also demonstrates their resilience and unmatched talent through history."—Kering Americas president Laurent Ciaquin
"Handsome... A beautiful, richly illustrated volume... A valuable resource for students of art and art history as well as curious general readers... The artists included represent a wide chronological and geographic range [...] the list is impressive... [with many] dynamic and unexpected juxtapositions produced by the book's alphabetical organisation... The texts on each artist are astute and thoughtful. Formal analyses are intertwined with introductions to key art-historical, social and political themes. The offers a panoramic sweep... Its diverse line-up is organised alphabetically rather than chronologically so that lesser-known artists rub shoulders with established superstars."—Jo Applin, Reader in the History of Art at the Courtauld Institute of Art, Times Literary Supplement
"The book we have been waiting for... Women artists put firmly on the map... Every now and then a book comes out that can change lives. If a survey like this had appeared when I was a student at the Slade, the struggle to make headway as a female artist would have seemed less daunting. We'd have had role models and names with which to counter the assertion that there had never been any significant women artists. And the recent explosion of female talent celebrated in this book might have happened a generation earlier. Phaidon's latest offering is a revelation... This impressive survey spans 500 years... It's incredibly hard to distill a life's work into a few hundred words, but these 23 writers do an excellent job of summarising the salient points... The burgeoning numbers of women now making and exhibiting work is reflected in this selection. Most impressive is the quality and diversity of work... This inspiring book is not just a celebration of women's creativity, it is symptomatic of a sea change... Things they are a-changing - at last. And if anyone has the temerity ever again to claim there have been no great women artists, you will be able to use this timely tome to knock the idea on its head, once and for all."—Sarah Kent, TheArtsDesk.com
"Women who have been airbrushed out of art history... are enjoying a renaissance, while contemporary female artists are starting to benefit from re-evaluations."—The Sunday Times
"Female artists have been neglected for so long that their work ? even if it was painted 70 years ago ? feels new and cutting edge. For collectors, it has the irresistible allure of discovery."—The New York Times
"It's good to see the auction houses finally giving more women a chance. For money is a powerful symbol of cultural worth."—The Economist
"Until very recently... the idea that women in the West have always made art was rarely cited as a possibility. Yet, they have ? and continue to do so ? often against tremendous odds."—Frieze Magazine