Mexico One Plate at a Time (Hardcover)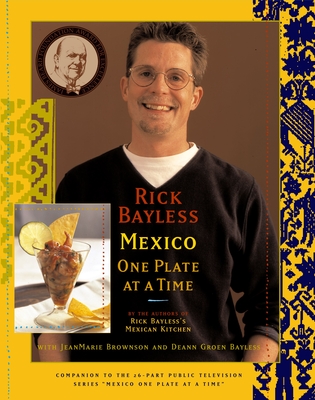 $35.00
Email or call for price.
Description
---
Rick Bayless has been acclaimed widely as America's foremost proponent of Mexico's thrillingly diverse cuisine. In this companion book to his 26-part Public Television series, he takes us, with boyish enthusiasm, through Mexican markets, street stalls and home kitchens to bring us the great dishes of Mexico, one "plate" at a time. Rick Bayless has been acclaimed widely as America's foremost proponent of Mexico's thrillingly diverse cuisine. In this companion book to his 26-part Public Television series, he takes us, with boyish enthusiasm, through Mexican markets, street stalls and home kitchens to bring us the great dishes of Mexico, one "plate" at a time. And each "plate" Rick presents here is a Mexican classic. Take guacamole, for instance. After teaching us the essentials for a perfect, classic guacamole, Rick shows how to spin contemporary interpretations, like his Roasted Poblano Guacamole with garlic and parsley. Rick's cuisine is always lively, but rooted in strong traditions. Always the teacher, Rick begins each "plate" with some never-before-found features: traditional benchmarks (Rick's idea of the best guacamole), when to think of the recipes (weeknight dinners or casual party food), and advice for American cooks (Rick's insight into the ingredients that make the dish). He rounds out each "plate" with suggestions for working ahead. To complete the journey into the Mexican mindset, Rick, with help from his testers, ends each "plate" with a question-and-answer section detailing just about everything a home cook might want to know: What are the best cuts of beef for grilled tacos? The best cheeses for quesadillas? Is one grill better than another? Rick draws from his years of living in Mexico, pulling us into the Mexican kitchen, to teach us how to create authentic Mexican dishes in our American kitchens. Rick is an Indiana Jones of the stove, a Julia Child of Mexican cuisine in black jeans and a T-shirt. Rick's goal: to enable folks all across the United States to create dishes that weave in the rich tapestry of Mexican flavor with ingredients that are widely available. He always provides ingredients that make the dish authentic, but he also delivers with the right substitute if an ingredient is hard to find. Experience food you can't wait to make in a new and user-friendly cookbook that contains the full range of dishes--Starters, Snacks and Light Meals; Soups, Stews and Sides; Entr es; Desserts and Drinks. Rick serves up such classic Mexican plates as Tomatillo-Braised Pork Loin, Quick-Fried Shrimp with Sweet Toasty Garlic, Chiles Rellenos, Cheesy Enchiladas Suizas, and Mexican Vanilla-Scented Flan. And for an exciting taste of the unexpected, try Rick's contemporary interpretations of the classics--Crispy Potato Sopes with Goat Cheese and Fresh Herbs, Grilled Salmon with Lemon-and-Thyme-Scented Salsa Veracruzana, Broiled Flank Steak with Tomato-Poblano Salsa and Rustic Cajeta Apple Tarts with Berry "Salsa." Food and friends, food and family. Good cooking, for Rick, is the unspoken animator of friends and family as they gather to share a meal. Rick's recipes lend themselves to weeknight family meals or celebrations. Take part in a tamalada, the tamal-making party before the party, or the ritual of a barbacoa, an earthy experience that Rick has made possible with a kettle grill in the backyard. 24 color photographs of finished dishes Photographs of Mexican location shots throughout
About the Author
---
Rick Bayless has won our country's highest chef honors (James Beard Foundation's National Chef of the Year). He's also won our highest cookbook award for Rick Bayless's Mexican Kitchen (Julia Child/IACP Cookbook of the Year). His other cookbooks include Authentic Mexican and Salsas That Cook. His famed Chicago restaurants, Frontera Grill and Topolobampo, have both won many awards, including the coveted Ivy Award. He lives in Chicago with his wife, Deann, and their daughter, Lane.
Praise For…
---
Ira Glass
Host of Public Radio International's This American Life

Rick Bayless is like the hero of some never-made Saturday morning cartoon for adults: cultural anthropologist by day, top flight chef at night. I hope in his next book he also starts solving crimes and playing in a pop band. That's all his protagonist needs to make the jump from PBS to HBO.


Emeril Lagasse


Rick Bayless's passion and thorough knowledge of authentic Mexican food has truly changed our minds and our palates! Great food!


Scott Simon
host of National Public Radio's Weekend Edition with Scott Simon, author of Home and Away: Memoir of a Fan

Rick Bayless sees in Mexican food the everyday personal celebration of life, art and friendship across a table. His recipes are lucid, allow for error and encourage innovation. I tried the chilaquiles recipe as soon as I opened this book. The results were delicious, my friends were delighted and we laughed and lingered late into the night. I think that's what Rick likes to help bring about with this lovely and lyrical book.


Gary Nabhan
MacArthur Award-winning ethnobotanist and author of Coming Home to Eat

Rick Bayless has the depth and breadth of knowledge about Mexican food traditions that most food writers can only dream of. Bayless is as vital to the culinary exchange between the U.S. and Mexico as Carlos Fuentes is to our binational literature. Viva Ricardo!


Sara Moulton
host of Cooking Live with Sara Moulton

Rick Bayless -- one of the greatest teachers I know -- has demystified Mexican cuisine for American home cooks. He demonstrates that there's much more to this great cuisine than nachos and burritos. Indeed, under Rick's tutelage it appears that Mexican cuisine is as vast and subtle as French or Italian.


Jim Harrison
author of Legends of the Fall and The Road Home

I have long admired the work of Rick Bayless. In Mexico One Plate at a Time he continues his passionate attempt to introduce us to a long-ignored cuisine. It is a splendid book and anyone who cares about world cuisine will want it in their library.


Jacques Pepin
co-author of Julia and Jacques Cooking at Home

In Mexico One Plate at a Time, you will discover Mexican cooking as you've never had it in your life. Great dishes and easy techniques make this book a must.


Thomas Keller
chef-owner of The French Laundry, Yountsville, California, and author of The French Laundry Cookbook

Rick's question-and-answer portion not only touches on the history of a particular dish, but provides personal tips for home cooks to successfully re-create the recipes in their own kitchens. This is definitely the kind of cookbook one returns to again and again.


Daniel Boulud
chef-owner of Restaurant Daniel, New York City, and author of Café Boulud Cookbook

Rick Bayless has managed to make my mouth water and my mind leave New York (direction Mexico!), all in one book.


Jean-Georges Vongerichten
chef-owner of Jean-Georges, JoJo, Vong and the Mercer Kitchen, New York City, and Prime, Las Vegas

I just love how Rick has given not only his contemporary recipes but the traditional as well. It's one of the best Mexican cookbooks I have seen.