COVID-19
Weller Book Works is closed to the public. But Catherine and Tony are working behind closed doors to keep the store ready to open when we're able.
We're still taking and filling orders via this website for new books or Biblio for used and rare books. At this time we can offer curbside pick-up or shipping only.
We are unable to consider used book offers until after we re-open to the public.
The Heart Is a Lonely Hunter (Modern Library 100 Best Novels) (Hardcover)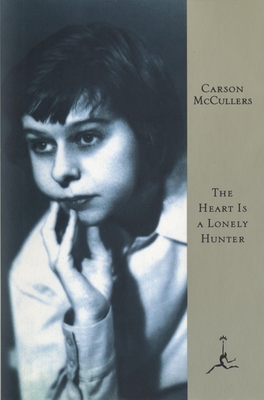 Staff Reviews
---
An overlooked classic, The Heart is a Lonely Hunter follows five people living in the American South prior to World War II. Each loves humanity deeply, but for one reason or another, they are severed from those who might understand them.
The first is Mick Kelly, a music lover from a poor family who, given her class and gender, is barred from opportunities to learn an instrument or musical composition. No one in her family understands her, so she is resigned to listening to classical greats on the radio, laboriously plunking them out during the scant minutes she has access to her school's piano. Gifted but poor, her dream might escape her.
The second, Jake Blount, is a labor agitator, passionately advocating for the rights of workers wherever he drifts, but tragically unable to foment change or even connect with other people. His failure to realize justice and find like-minded workers and thinkers in the South sends him searching for consolation in liquor. His search may be endless.
The third, Biff Brannon, owns a local diner. He silently observes the movements and tussles of this small town from behind his counter. Recently a widower, he's left to wonder what he's doing with his life, even though his marriage was unhappy, and if there's a life worth living anymore.
The fourth is Dr. Benedict Mady Copeland, the only Black physician in town. Apropos to America's historical and current grapples with race and violence, his tale is punctuated by hostile interactions with white law-keepers. However, what haunts Dr. Copeland most is the inability of his Black neighbors and family to unite with him and stand against bigotry. Well-read, philosophical, and radical, he is singular, and lonely for it.
Our fifth character is the linchpin that might quilt our motley crew of dreamers together. John Singer is a deaf and mute man. Each of the other four thinks of Singer as the only person who understands their hearts, their desires, and their loneliness. They meet him and find that he is the most sympathetic human to live. None realizes that Singer can't sympathize with them as much as they believe; he can't read their lips quickly enough, and besides, he has his own struggles and desires, and is physically unable to communicate these to his frequent callers. The only thing to do, in his mind, is bring these four people together somehow.
One can name the structural forces pushing these people to the margins of society: race, class, ability, age, gender, education, and so on. Yet, these margins are solitary places where they gain a sharper understanding of the world's machinations than most people. So then, is there a deeper relation between them that binds them together but cleaves them from others? Some intellectual and emotional genealogy, invisible to us and them? Are these dreamers punished or rewarded for their courage?
This book has a tragic verisimilitude to our world, afflicted by an illusion of connectivity that only alienates us further. My words do it injustice.
— Holden
Description
---
Selected by the Modern Library as one of the 100 best novels of all time

When she was only twenty-three, Carson McCullers's first novel created a literary sensation. She was very special, one of America's superlative writers who conjures up a vision of existence as terrible as it is real, who takes us on shattering voyages into the depths of the spiritual isolation that underlies the human condition. This novel is the work of a supreme artist, Carson McCullers's enduring masterpiece. The heroine is the strange young girl, Mick Kelly. The setting is a small Southern town, the cosmos universal and eternal. The characters are the damned, the voiceless, the rejected. Some fight their loneliness with violence and depravity, some with sex or drink, and some—like Mick—with a quiet, intensely personal search for beauty.
About the Author
---
Carson McCullers was born in 1917. She was the critically acclaimed author of several popular novels in the 1940s and '50s, including The Heart Is a Lonely Hunter, The Member of the Wedding, and Reflections in a Golden Eye. Her fiction frequently depicted life in small towns of the southeastern United States and were marked by themes of loneliness and spiritual isolation. McCullers suffered from ill health most of her adult life, including a series of strokes that began when she was in her twenties; she died at the age of fifty.