Sun Brewing Company Cookbook (Hardcover)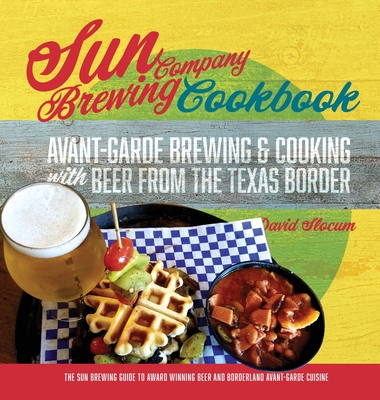 $39.95

Not in Stock... Available to ship in 3-5 days​
Description
---
"This book is the conversation you and Dave have standing next to the barbecue at the neighborhood cookout ... I can't wait to try these recipes " - John Palmer, author of How to Brew.
"There can be no arguing: beer pairs far better and more extensively with food than does wine. There can be no better example than that given here, with passion and belief." - Charlie Bamforth - The Pope of Foam
"It's a rare thing to watch creativity at work. It's seldom neat and often makes you wonder what exactly is going on. ...This book is evidence of how committed he is to his craft and to sharing what he's learned, which is a hallmark of the craft beer industry." - BDB - Bev D. Blackwood II - Southwest Brewing News
"This is definitely a must-have for anyone who likes cooking with beer. ...David has inspired me as a business owner to put my recipes in writing." - Chef Angel Beasley owner of Sun City's Hawaiian Shave Ice and Chef Instructor at El Paso Community College in Culinary Arts.
The Sun Brewing Cookbook will get you excited about brewing and cooking like no other cookbook can. David "El Guapo" Slocum's original, beer-and-spice-fueled borderlands avant-garde style cuisine mixes the bold flavors of Mexico with the comforting richness of the American South in ways that often surprise but never fail to get your mouth watering.
El Guapo's casual, easy-going style will inspire the most timid of novices and brewers to dare to make something amazing, and even the experienced will find a tantalizing challenge or two. In El Guapo's kitchen, it's all about making it with your hands - and then sharing it with someone special.
What you'll find inside...
- El Guapo's tips for cooking and brewing beyond recipes
- Recipes for fermenting beer bread, pickles, carrots, sauces ... and a lot more.
- How to make a grill in your backyard with only cinder blocks and a grate.
- How to brew 100% Spontaneous Ales and Avant-garde beers using a wide array of ingredients such as avocados, chiles, beans, Mexican chocolate, tamales or cock bones.
The Sun Brewing Company Cookbook has recipes to inspire the novice and challenge the most experienced brewers and chefs. Homebrewers will find a new world of possibilities, and the average beer lover will be encouraged to try something outside their comfort zone.
Everyone is promised a good time and the satisfaction of making a meal and a beer with their own hands.