COVID-19
We miss having customers in the store! However, we want our customers and staff to stay healthy and safe so are still in the process of opening safely.
While we work to open up, we're also here to meet your bookish needs! To buy new books, order through this website. If you're looking for used or rare books, browse our collection on Biblio. You can also give us a call to place an order or to check on the availability of a title.
We are unable to consider used book offers until after we re-open to the public.
On the Plain of Snakes: A Mexican Journey (Hardcover)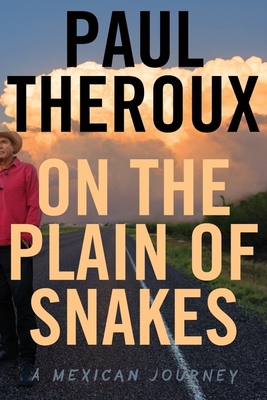 $30.00
Not in Stock... Available to ship in 3-5 days​
Description
---
Legendary travel writer Paul Theroux drives the entire length of the US–Mexico border, then goes deep into the hinterland, on the back roads of Chiapas and Oaxaca, to uncover the rich, layered world behind today's brutal headlines.

Paul Theroux has spent his life crisscrossing the globe in search of the histories and peoples that give life to the places they call home. Now, as immigration debates boil around the world, Theroux has set out to explore a country key to understanding our current discourse: Mexico. Just south of the Arizona border, in the desert region of Sonora, he finds a place brimming with vitality, yet visibly marked by both the US Border Patrol looming to the north and mounting discord from within. With the same humanizing sensibility he employed in Deep South, Theroux stops to talk with residents, visits Zapotec mill workers in the highlands, and attends a Zapatista party meeting, communing with people of all stripes who remain south of the border even as their families brave the journey north.

From the writer praised for his "curiosity and affection for humanity in all its forms" (New York Times Book Review), On the Plain of Snakes is an exploration of a region in conflict.
 
About the Author
---
PAUL THEROUX is the author of many highly acclaimed books. His novels include The Lower River and The Mosquito Coast, and his renowned travel books include Ghost Train to the Eastern Star and Dark Star Safari. He lives in Hawaii and on Cape Cod.
 
Praise For…
---
"On the Plain of Snakes is fierce and poignant . . . This declaration of common cause with our southern neighbors offers a sharp rebuke to the idea that Mexicans who come to the U.S. are rapists bringing only drugs and crime."
—Wall Street Journal

"Theroux extracts such life-affirming joy from the road that you hope it keeps unfurling before him and, even more, that the wonderful people he writes about would be so graciously received during their own journeys to El Norte."
—The Washington Post

"Paul Theroux is an undisputed master of travel literature. He has traversed Mexico with such dedication that he knows its roads as he knows the lines on the palm of his hand. His curiosity does not recognize borders. Nor is he a stranger among us: he is Don Pablo, a wise man who never stops learning."
—Juan Villoro, journalist, playwright, and author of Herralde Prize-winner The Witness.

"On the Plain of Snakes couldn't be more vital, informed, inquiring or big-hearted. Anyone yearning for an in-depth look at the actualities on the ground will savor this complex, contradictory, empathetic picture of our southern neighbor… Whether you're a longtime Theroux fan or just curious about Mexican realities beyond the headlines, On the Plain of Snakes offers deep satisfactions."
—The Boston Globe

"A trip worth taking."
—Los Angles Times

"Illuminating, literate, and timely—a must-read for those interested in what's going on inside Mexico."
—Kirkus Reviews (starred review)

"A textured portrait…Theroux does not hesitate to articulate his point of view on a number of topics as he unapologetically takes into consideration context, anecdotal evidence, and his on-the-road experiences to arrive at his prescription for improving the Mexican situation."—Booklist (starred review) 

"[A] dark-edged but ultimately hopeful travelogue . . . Theroux's usual excellent mix of vivid reportage and empathetic rumination is energized by a new spark of political commitment. Armchair travelers will find an astute, familiar guide in Theroux."
—Publishers Weekly

"Tourists headed to Mexico and those interested in the current migrant situation will learn a great deal."
—Library Journal

"At 78 years of age Theroux admits that he may not have a great deal more travel in him. On the Plain of Snakes, should it be his last major work, is a fitting capstone to a long and illustrious literary career."
—Missourian 

"A complex, interesting, and unpredictable read."—Pedro Ángel Palou, El Herraldo