All About Dinner: Simple Meals, Expert Advice (Hardcover)
Weller Book Works was founded as Zion Bookstore nearly 90 years ago. Over the years we've been known as Sam Weller's Books and Sam Weller's Zion Bookstore. We are in our third generation of operations, owned and managed by Tony and Catherine Weller. Our staff includes four generations of Wellers and a remarkable team of book lovers. Our bookstore sells new, used and rare books in a space built to surprise and delight you in historic Trolley Square.

We're happy to answer your questions and help you select just the right book.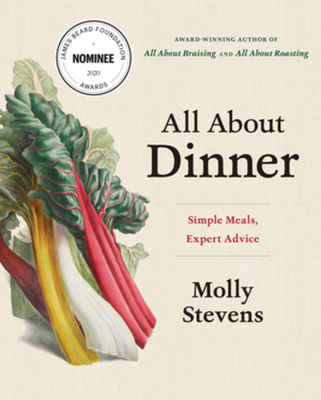 Description
---
The Atlantic "Best Cookbooks of 2019" • Washington Post "Cookbooks That Inspired Us in 2019" • Christian Science Monitor "Best Cookbooks of 2019" • NPR "Favorite Books of 2019" • WBUR Here & Now "Best Cookbooks of 2019"



An award-winning cookbook author and cooking teacher answers her most-asked question: What do you make for dinner?
Like most of us, Molly Stevens has no team of prep cooks, no vast pantry, and no one paid to clean up her home kitchen. What she does have are delicious, time- tested recipes made from easy-to-find ingredients, collected for the first time in All About Dinner. These are the dishes that Stevens loves most, the ones her students clamor for: an Arugula Salad with Peaches, Basil Vinaigrette and Sunflower Seeds; an elegant Creamy Parsnip-Leek Soup; a Butter-Poached Shrimp with Fresh Tomatoes and Garlic; and an Apple and Triple-Ginger Crisp. Building on the foolproof clarity of her previous cookbooks, each recipe is designed to impart solid kitchen skills while encouraging home cooks to expand their personal repertoires by mastering everyday favorites like simple pasta, hearty stew, and tempting savory and sweet snacks.
A gorgeous collection of balanced meals, packed with flavor, All About Dinner will entice busy cooks back into their kitchens.
About the Author
---
Molly Stevens is a cooking instructor, writer, and recipe developer. Her cookbooks include All About Dinner as well as the James Beard and IACP cookbook award winners All About Braising and All About Roasting. She has been named Cooking Teacher of the Year by both Bon Appétit and IACP. Her recipes and articles have appeared regularly in Bon Appétit, Fine Cooking, Eating Well, and other national publications. She lives near Burlington, Vermont.
Praise For…
---
Molly Stevens is one of the most generous, gifted cooking teachers I know. Her excitement and culinary depth are at full tilt boogie in All About Dinner as she coaches you to become a smarter, more present cook. Whether you're new to cooking or well-seasoned in the kitchen, you'll be using this book for years to come.

— Andrea Nguyen, author of The Pho Cookbook and Vietnamese Food Any Day

A quintessential Molly Stevens cookbook—instructive, encouraging, and brimming with home-run recipes. All About Dinner exemplifies why she is one of America's most respected cooking voices.

— Heidi Swanson, author of Super Natural Every Day