COVID-19
Weller Book Works is closed to the public. But Catherine and Tony are working behind closed doors to keep the store ready to open when we're able.
We're still taking and filling orders via this website for new books or Biblio for used and rare books. At this time we can offer curbside pick-up or shipping only.
We are unable to consider used book offers until after we re-open to the public.
The End of Eddy: A Novel (Hardcover)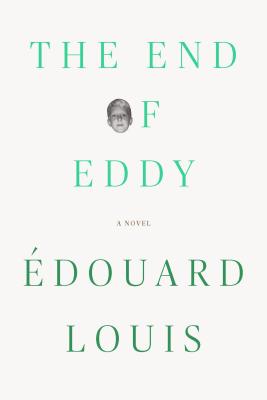 $23.00
Not in Stock... Available to ship in 3-5 days​
Staff Reviews
---
"It took me a long time to understand that she wasn't being incoherent or contradictory, but rather that it was I myself, arrogant class renegade that I was, who tried to force her discourse into a foreign kind of coherence one more compatible with my values—values I'd adopted precisely in order to construct a self in opposition to my parents, in opposition to my family…"
The End of Eddy is a semi-autobiographical account of growing up in a poor, rural village in northern France. Eddy is gay, but is thrown into a world where to be a man is to be a tough guy who does not finish school, does not eat well, and does not care about sexual modesty or safety. One cannot be gay in Eddy's world. Of course, what Louis illustrates for us is that, in that/this world, people do not choose who they are and who they can be; they are forced into roles.
Poignant and sheer, The End of Eddy is a topography of a discourse that seems to contradict itself: a 'lower-class, right-wing' discourse. The unthoughtful analyses on current political climates can be forgotten; here is something that gets to the compassionate, obscene heart of the matter. This book caused heated debate when it was published in France. Many on the right saw it as a leftist attack on French culture. This narrative is anything but an attack. If you like Fyodor Dostoyevsky or Marguerite Duras then you will find something to like about Édouard Louis.
— From
Holden's Picks
Description
---
An autobiographical novel about growing up gay in a working-class town in Picardy.
"Every morning in the bathroom I would repeat the same phrase to myself over and over again . . . Today I'm really gonna be a tough guy." Growing up in a poor village in northern France, all Eddy Bellegueule wanted was to be a man in the eyes of his family and neighbors. But from childhood, he was different—"girlish," intellectually precocious, and attracted to other men.
Already translated into twenty languages, The End of Eddy captures the violence and desperation of life in a French factory town. It is also a sensitive, universal portrait of boyhood and sexual awakening. Like Karl Ove Knausgaard or Edmund White, Édouard Louis writes from his own undisguised experience, but he writes with an openness and a compassionate intelligence that are all his own. The result—a critical and popular triumph—has made him the most celebrated French writer of his generation.
About the Author
---
Born Eddy Bellegueule in Hallencourt, France, in 1992, Édouard Louis is a novelist and the editor of a scholarly work on the social scientist Pierre Bourdieu. He is the coauthor, with the philosopher Geoffroy de Lagasnerie, of "Manifesto for an Intellectual and Political Counteroffensive," published in English by the Los Angeles Review of Books.
Praise For…
---
"The Hillbilly Elegy of France . . . The End of Eddy, however, is not just a remarkable ethnography. It is also a mesmerizing story about difference and adolescence, one that is far more realistic than most." —Jennifer Senior, The New York Times
"Canny . . . brilliant . . . a devastating emotional force." —Garth Greenwell, The New Yorker

"Louis' account of growing up gay and poor in a working-class village isn't only a story about France. Just released in a highly readable translation by Michael Lucey, this painfully insightful tale of entrapment and escape could've easily been set in Michigan or West Virginia . . . While Eddy's parents are both vivid characters—Louis has a great ear for their patois—what makes the novel special is the way it expands outward." —John Powers, NPR's Fresh Air

"The End of Eddy marks the beginning of a powerful writer's career." —Rick Whitaker, The Washington Post
"Haunting . . . devastating" —Damian Van Denburgh, The San Francisco Chronicle
"Controversy may have put The End of Eddy in headlines, but it's the nuanced characters and story that make it the rare literary novel that is a modern coming-of-age classic." —Mitchell Sunderland, Vice
"A powerful coming-of-age novel . . . Louis arrives in the United States (where his novel is published this month in a translation by Michael Lucey) as the bright young thing of the French literary world—an enfant terrible unafraid to discuss the nation's dark underbelly." —Liam Hoare, Slate
"Excellent . . . Already translated into 20 languages, this concise novel adroitly captures the downstream effects of reactionary rural culture, heightened by the rise of hard-right ideology and the destabilization of the working class in contemporary Europe, granting its reader an extraordinary portrait of trauma and escape." —Publishers Weekly (starred review)
"A seamless, universal portrait of the experience of growing up gay and gradually coming to accept oneself." —Michael Cart, Booklist (starred review)
"[One of] Europe's new literary superstars . . . Even in the wake of Knausgaard and Ferrante it is hard to find a literary phenomenon that has swept Europe quite like the autobiographical project of Édouard Louis." —Ane Farsethas, LitHub
"A bracingly pitiless account of the psychic and physical violence that lies at the root of masculine identity. Louis's remarkably visceral story of growing up queer in working class France quickly transcends its setting precisely because it delivers us into it with such emotional force." —Adam Haslett, author of Imagine Me Gone
"Èdouard Louis speaks of violence, both social and familiar, with tremendous force and feeling. Revelatory, queerly tough, as intellectual as it is impolite, The End of Eddy is a book to shake you up." —Justin Torres, author of We the Animals
"The End of Eddy is lean and poignant and masterfully tells the tale of growing up gay, poor, and bullied. No one has told this story as eloquently." —Edmund White, author of A Boy's Own Story
"Like a cannonball spilled off the side of a ship, Édouard Louis makes straight for the deeps. The End of Eddy is heart-crushing, soul-stabbing, astonishing, exhilarating. Édouard Louis is exactly the kind of writer we need right now: honest, fearless and, yes, tough." —Laird Hunt, author of Neverhome
Coverage from NPR