COVID-19
Weller Book Works is closed to the public. But Catherine and Tony are working behind closed doors to keep the store ready to open when we're able.
We're still taking and filling orders via this website for new books or Biblio for used and rare books. At this time we can offer curbside pick-up or shipping only.
We are unable to consider used book offers until after we re-open to the public.
The Seventh Function of Language: A Novel (Hardcover)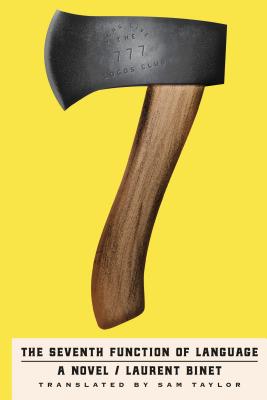 $27.00
Not in Stock... Available to ship in 3-5 days​
Staff Reviews
---
This is a postmodern buddy-cop novel. In 1980, literary critic Roland Barthes is killed in an accident. Yet, what if it isn't an accident? What if Barthes was killed because he held knowledge about a secret function of language that could allow the speaker to control others. This odd premise fits the setting; French intellectuals of this era were doggedly fascinated by language and its foibles. So, this madcap mystery follows these intellectuals around in an almost surreal criminal investigation. It's fun, funny, and philosophical. I can't stop thinking about it; I'm tempted to read it a second time.
— Holden
Description
---
From the prizewinning author of HHhH, "the most insolent novel of the year" (L'Express) is a romp through the French intelligentsia of the twentieth century.
Paris, 1980. The literary critic Roland Barthes dies—struck by a laundry van—after lunch with the presidential candidate François Mitterand. The world of letters mourns a tragic accident. But what if it wasn't an accident at all? What if Barthes was . . . murdered?
In The Seventh Function of Language, Laurent Binet spins a madcap secret history of the French intelligentsia, starring such luminaries as Jacques Derrida, Umberto Eco, Gilles Deleuze, Michel Foucault, Judith Butler, and Julia Kristeva—as well as the hapless police detective Jacques Bayard, whose new case will plunge him into the depths of literary theory (starting with the French version of Roland Barthes for Dummies). Soon Bayard finds himself in search of a lost manuscript by the linguist Roman Jakobson on the mysterious "seventh function of language."
A brilliantly erudite comedy with more than a dash of The Da Vinci Code—The Seventh Function of Language takes us from the cafés of Saint-Germain to the corridors of Cornell University, and into the duels and orgies of the Logos Club, a secret philosophical society that dates to the Roman Empire. Binet has written both a send-up and a wildly exuberant celebration of the French intellectual tradition.
About the Author
---
Laurent Binet was born in Paris, France, in 1972. He is the author of La Vie professionnelle de Laurent B., a memoir of his experience teaching in secondary schools in Paris. In March 2010, his debut novel, HHhH, won the Prix Goncourt du Premier Roman. Laurent Binet is a professor at the University of Paris III, where he lectures on French literature.

Sam Taylor has written for The Guardian, Financial Times, Vogue and Esquire, and has translated such works as the award-winning HHhH by Laurent Binet, and the internationally-bestselling The Truth about the Harry Quebert Affair by Joël Dicker.
Praise For…
---
"No small pleasure is to be had from the amusing, sometimes scabrous, satirical portraiture of illustrious figures . . . It is as if a roman policier has collided with the kind of campus novel Kingsley Amis would have written had he been of the generation and temperament to read Derrida's Of Grammatology. On its surface [The Seventh Function of Language is] a romp, then, a burlesque set in a time when literary theory was at its cultural zenith; knowing, antic, amusingly disrespectful and increasingly zany as it goes on . . ." --Nicholas Dames, The New York Times Book Review
"A cunning, often hilarious mystery for the Mensa set and fans of Umberto Eco's The Name of the Rose and Tom Stoppard's Arcadia . . . In addition to some challenging thickets of language theory, the novel is packed with drama — car chases, mutilations, suicide, graphic sex, and multiple murders . . . Sam Taylor's deft translation encompasses heavy linguistic exegeses, political discussions, oratory duels, and even some puns, including echo and Eco . . ." —Heller McAlpin, NPR
"An affectionate send-up of an Umberto Eco–style intellectual thriller that doubles as an exemplar of the genre, filled with suspense, elaborate conspiracies, and exotic locales." —Esquire
"[Binet] ups the metafictional ante with The Seventh Function of Language . . . This novel is alive with the potential signifiers lurking behind language . . . A charming roman à clef like no other . . . [A] loving inquiry into 20th-century intellectual history that seamlessly folds historical moments . . . into a brilliant illustration of the possibilities left to the modern novel." —Publishers Weekly (boxed and starred review)
"Binet's second novel is at once a mystery and a satire of mysteries . . . A clever and surprisingly action-packed attempt to merge abstruse theory and crime drama." —Kirkus Reviews