Taming Your Outer Child: A Revolutionary Program to Overcome Self-Defeating Patterns (Hardcover)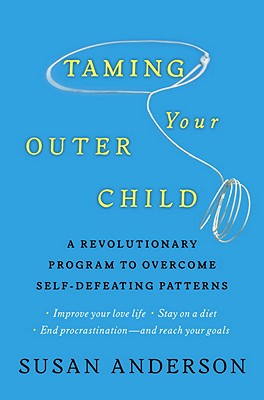 $25.00
Email or call for price.
Description
---
FINALLY, THE BREAKTHROUGH BOOK THAT PUTS YOU BACK IN CONTROL OF YOUR LIFE
 
Most of us have met our Outer Child once too often. The self-sabotaging, bungling, and impulsive part of the personality. This misguided, hidden nemesis—the devil on your shoulder—blows your diet, overspends, and ruins your love life. A menacing older sibling to your emotionally needy Inner Child, your Outer Child acts out and fulfills your legitimate childlike needs and wants in the wrong place, at the wrong time, and in counterproductive ways: It goes for immediate gratification and the quick fix in spite of your best-laid plans. Food, attention, emotional release—your Outer Child usually gets what it wants, and your Adult self can feel powerless to stop it.

Now, in a revolutionary rethinking of the link between emotion and behavior, veteran psychotherapist and theoretician Susan Anderson offers a three-step, paradigm-shifting program to tame your Outer Child's destructive behavior. This dynamic, transformational set of strategies—action steps that act like physical therapy for the brain—calms your Inner Child, strengthens your Adult Self and releases you from the self-blame and shame that are the root of Outer Child issues, and paves new neural pathways that can lead to more productive behavior. Discover

• the common Outer Child personality types, including the Drama Queen; the Master of Disguise; My Way or No Way; and Love the Getting, not the Having
• proven techniques to resolve underlying sources of self-sabotage
• insights that will allow you to stop blaming your supposed "lack of willpower" for your problems
• key strategies for healing the painful issues of your past
• mental exercises that effectively deal with Outer Child challenges around food, procrastination, love, debt, depression, and more
 
As your head, heart, and behavior come together and learn to help, not hurt, one another, your strong Adult Self, contented Inner child, and tamed Outer child will become a reality. The result is happiness and fulfillment, self-mastery, and self-love.
About the Author
---
Susan Anderson, LCSW, has devoted more than thirty years of clinical experience and research to working with the victims of trauma, abandonment, grief, and loss. The creator of the Outer Child concept and the founder of the abandonment recovery movement, she is the author of "The Journey from Abandonment to Healing, Black Swan: The Twelve Lessons of Abandonment Recovery, "and "The Journey from Heartbreak to Connection." In addition to her lectures and workshops, she continues private practice in Manhattan and on Long Island.
Praise For…
---
"This book will be an enormous help to anyone looking to let go of past disappointments and self-recrimination and get on with the essential work of healing, building boundaries, and acquiring the skills to reach your goals. I hope you will read it and do the exercises it provides." –John Bradshaw, #1 New York Times bestselling author of Homecoming

"Groundbreaking…" –PsychologyToday.com