The Call of the Wild and Free: Reclaiming Wonder in Your Child's Education (Hardcover)
Weller Book Works was founded as Zion Bookstore nearly 90 years ago. Over the years we've been known as Sam Weller's Books and Sam Weller's Zion Bookstore. We are in our third generation of operations, owned and managed by Tony and Catherine Weller. Our staff includes four generations of Wellers and a remarkable team of book lovers. Our bookstore sells new, used and rare books in a space built to surprise and delight you in historic Trolley Square.

We're happy to answer your questions and help you select just the right book.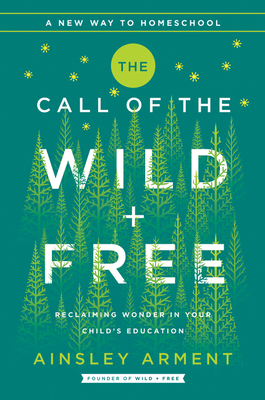 Description
---
Allow your children to experience the adventure, freedom, and wonder of childhood with this practical guide that provides all the information, inspiration, and advice you need for creating a modern, quality homeschool education.

Inspired by the spirit of Henry David Thoreau—"All good things are wild and free"—mother of five Ainsley Arment founded Wild + Free. This growing online community of mothers and families want their children to receive a quality education at home by challenging their intellectual abilities and nurturing their sense of curiosity, joy and awe—the essence of a positive childhood.
The homeschool approach of past generations is gone—including the stigma of socially awkward kids, conservative clothes, and a classroom setting replicated in the home. The Wild + Free movement is focused on a love of nature, reading great books, pursuing interests and hobbies, making the entire world a classroom, and prolonging the wonder of childhood, an appealing philosophy that is unpacked in the pages of this book
The Call of the Wild and Free offers advice, information, and positive encouragement for parents considering homeschooling, those currently in the trenches looking for inspiration, as well as parents, educators, and caregivers who want supplementary resources to enhance their kids' traditional educations.
About the Author
---
Ainsley Arment is the founder and leader of Wild + Free and co-host of the weekly Wild + Free Podcast. As she leads this movement of raising her kids and homeschooling in a new way, she thinks deeply about making the most out of life and ensuring that her children have a fertile seedbed for their own uniqueness and creativity. She and her husband Ben are raising their five kids, Wyatt, Dylan, Cody, Annie, and Millie, in Virginia Beach.