COVID-19
Weller Book Works is closed to the public. But Catherine and Tony are working behind closed doors to keep the store ready to open when we're able.
We're still taking and filling orders via this website for new books or Biblio for used and rare books. At this time we can offer curbside pick-up or shipping only.
We are unable to consider used book offers until after we re-open to the public.
The House of Impossible Beauties: A Novel (Hardcover)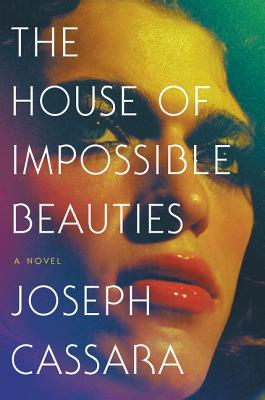 $26.99
Not in Stock... Available to ship in 3-5 days​
Staff Reviews
---
Cassara has done something bold, inventing a rich narrative surrounding some of the most famous figures of the underground Harlem ballroom scene of the '80s and '90s. Dorian Corey, Hector Xtravaganza, Venus Xtravaganza, and more make appearances. (Watch the cult documentary Paris Is Burning if you want to hear and see these people with your own eyes and ears.) Chronicling their lives through the AIDS epidemic and the early years of the balls, Cassara allows us to witness their hopes, trails, and joys.
I actually listened to the audiobook via libro.fm, an audiobook provider that supports independent bookstores like us. You can access and explore the service yourself by going to libro.fm/wellerbookworks and making an account. In audio or print format, this is a great book.
— Holden
Description
---
NAMED A RECOMMENDED BOOK OF 2018 BY Buzzfeed • The Wall Street Journal • The Millions • Southern Living • Bustle • Esquire • Entertainment Weekly • Nylon • Mashable • Libary Journal • Thrillist
"Cassaras's propulsive and profound first novel, finding one's home in the world—particularly in a subculture plagued by fear and intolerance from society—comes with tragedy as well as extraordinary personal freedom." -- Esquire
A gritty and gorgeous debut that follows a cast of gay and transgender club kids navigating the Harlem ball scene of the 1980s and '90s, inspired by the real House of Xtravaganza made famous by the seminal documentary Paris Is Burning
It's 1980 in New York City, and nowhere is the city's glamour and energy better reflected than in the burgeoning Harlem ball scene, where seventeen-year-old Angel first comes into her own. Burned by her traumatic past, Angel is new to the drag world, new to ball culture, and has a yearning inside of her to help create family for those without. When she falls in love with Hector, a beautiful young man who dreams of becoming a professional dancer, the two decide to form the House of Xtravaganza, the first-ever all-Latino house in the Harlem ball circuit. But when Hector dies of AIDS-related complications, Angel must bear the responsibility of tending to their house alone.
As mother of the house, Angel recruits Venus, a whip-fast trans girl who dreams of finding a rich man to take care of her; Juanito, a quiet boy who loves fabrics and design; and Daniel, a butch queen who accidentally saves Venus's life. The Xtravaganzas must learn to navigate sex work, addiction, and persistent abuse, leaning on each other as bulwarks against a world that resists them. All are ambitious, resilient, and determined to control their own fates, even as they hurtle toward devastating consequences. 

Told in a voice that brims with wit, rage, tenderness, and fierce yearning, The House of Impossible Beauties is a tragic story of love, family, and the dynamism of the human spirit. 


About the Author
---
Joseph Cassara was born and raised in New Jersey. He holds degrees from Columbia University and the Iowa Writers' Workshop and has been a writing fellow at the Fine Arts Work Center in Provincetown, Massachusetts. This is his first novel.

Praise For…
---
"Vividly imagined. . . . Riveted by their stories, you are so struck by the Xtravaganza's strength and determination, by their vibrant spirits and humor, by their creativity, by their sensitivity to beauty and their capacity to give and receive love."
— New York Times Book Review

"A marvelously serious, deep, artful, humane read. I'm really knocked out by this…[Cassara] managed to put actual, living, breathing human beings on the page….There's so much downright gorgeous prose here, so many beautifully and precisely observed images, subjects, emotions. Beautiful because true."
— Paul Harding, Pulitzer Prize-winning author of Tinkers

"Joy and loss clutch hands in The House of Impossible Beauties. It is a tragic book, a lyrical book, a defiant book, and ultimately a loving book. The heroines and heroes hold fast to love and Cassara clearly has deep love for every character who struts across these pages."
— Rowan Hisayo Buchanan, author of Harmless Like You

"Underneath the grime and glitter, The House of Impossible Beauties is quietly about necessity and defiance, about love and death, about characters who ache to be alive and seen in a world that mirrors back nothing but rejection and violence."
— Nami Mun, author of Miles From Nowhere

"Passionate...empathetic and vibrant."
— Entertainment Weekly

"Vivid and engaging. . . . The novel feels like an anthropological plunge into another era, enhanced by rhythmic, urban prose littered with slang and Spanglish."
— The Economist

"It's impossible to not feel utterly transported, to feel the hum of the music in your cells, to vibrate with the energy of the time and place, with all its attendant exhilarating highs and devastating lows."
— Nylon Magazine

"Cassara's propulsive and profound first novel, finding one's home in the world—particularly in a subculture plagued by fear and intolerance from society—comes with tragedy as well as extraordinary personal freedom."
— Esquire

 "This is a definitive LGBTQ family story, of the sweep and intimacy that's typical in family sagas while also steeped in the trauma and sass specific to its milieu."
— Entertainment Weekly

"A heartbreaking novel that burns brightly."
— Buzzfeed

"Infused with glitz as well as heart, the story explores life as racial and sexual minorities—the pains and the triumphs, the grit and the thrills—in a way that feels personal, even for those who never walked the ballroom scene."
— Harper's Bazaar

"A vivacious debut."
— O, the Oprah Magazine

"Cassara immerses us in a New York that we may think we know from countless other novels and films, but which is, in fact, significantly more complex (and more urgently relevant to us today) than previously imagined."
— The Millions

"A novel so beautiful it's hard to believe it's a debut... As you meet each narrator, the book reveals the raw, heartbreaking stories behind the glamor we associate with the ballroom scene."
— Mashable

"Simultaneously tender and tragic, Cassara chronicles the House's inception, its role in cultivating family for outcasts in the community, and spotlights the wholly original personalities that brought it to life."
— Town & Country

"This debut novel will absolutely blow you away."
— Bustle

"Exceptional...The writing is erotically luscious, lyrically intense, forthrightly in your face, and pitch-perfect in the dialog, and the suspense comes from wondering what's going to happen to these people...A grittily gorgeous work for readers who don't go for cozies."
— Library Journal (starred review)

"Cassara has done a superb job of reimagining a world that will be foreign and even exotic to many readers, while creating fully developed characters to populate it. The tone is singularly apposite....A compassionate story, which is altogether moving and unforgettable."
— Booklist (starred review)

"Fierce, tender, and heartbreaking."
— Kirkus Reviews

" [An] exceptional debut...The book's social truth is unsettling, its dialog deft, its characterization affecting, and its language both gritty and luscious."
— Library Journal