COVID-19
Weller Book Works is closed to the public. But Catherine and Tony are working behind closed doors to keep the store ready to open when we're able.
We're still taking and filling orders via this website for new books or Biblio for used and rare books. At this time we can offer curbside pick-up or shipping only.
We are unable to consider used book offers until after we re-open to the public.
Gem & Dixie (Hardcover)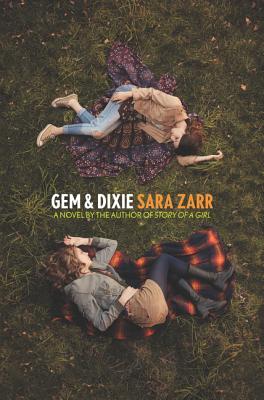 Description
---
"A story that broke my heart and put it back together again. You won't want to let Gem and Dixie go." —Sarah Dessen, New York Times bestselling author of Saint Anything
From renowned author and National Book Award finalist Sara Zarr comes a deep, nuanced, and gorgeously written story about the complex relationship between two sisters from a broken home.
Gem has never known what it is to have security. She's never known an adult she can truly rely on. But the one constant in her life has been Dixie. Gem grew up taking care of her sister when no one else could: not their mother, whose issues make it hard for her to keep food on the table, and definitely not their father, whose intermittent presence is the only thing worse than his frequent absence.
Even as Gem and Dixie have grown apart, they've always had each other.
When their dad returns home for the first time in years and tries to insert himself back into their lives, Gem finds herself with an unexpected opportunity: three days with Dixie—on their own in Seattle and beyond.
But this short trip soon becomes something more, as Gem discovers that that to save herself, she may have to sever the one bond she's tried so hard to keep.
"A complex and gripping story centered around the relationship of two sisters from a broken home. This book was so meaningful and realistic" (from the Brightly.com review, which named Gem and Dixie one of the best books of 2017).
About the Author
---
Sara Zarr is the author of six acclaimed novels for young adults, including Story of a Girl, The Lucy Variations, and Gem & Dixie. She's a National Book Award finalist and two-time Utah Book Award winner. Her novels have been variously named to annual best books lists of the American Library Association, Kirkus Reviews, Publishers Weekly, School Library Journal, the Guardian, the New York Public Library, and the Los Angeles Public Library and have been translated into many languages. She lives in Utah with her husband and online at www.sarazarr.com.
Praise For…
---
"Packed with Zarr's sharp-eyed, honest observations of human nature, GEM & DIXIE gives us two sisters crushed by the failures of their parents, and asks how bad things need to get before you have to make a change. A road-trip like you've never been on before."
— Laura Ruby, author of National Book Award finalist and Michael L. Printz Award winner BONE GAP

"This may be the most powerful sibling story I've ever read. Gem and Dixie's road trip is heartbreaking and honest and beautifully rendered by one of my all-time favorite writers. This is Sara Zarr at her absolute best."
— Matt de la Peña, Newbery Medal winning author of WE WERE HERE

"Gem & Dixie is a beautiful, poignant, and ultimately hopeful story from one of the finest YA authors writing today. An exploration of the complicated love and loyalty between sisters that is at once profoundly moving and unflinchingly real."
— Nova Ren Suma, New York Times bestselling author of THE WALLS AROUND US

"A story that broke my heart and put it back together again. You won't want to let Gem and Dixie go."
— Sarah Dessen, New York Times-bestselling author of SAINT ANYTHING

★ "With a vivid, well-rounded cast of characters, including the adults, and a poignant portrayal of family dynamics, Zarr's frank, resonant story is both bittersweet and triumphant."
— Booklist (starred review)

★ "Zarr movingly explores the effects of neglect on two vulnerable girls relearning how to trust. Readers' hearts will ache for Gem, who so desperately wants to follow a different path than her parents, as she tries to carve out a better life for herself and her sister."
— Publishers Weekly (starred review)

"The forthcoming release from National Book Award finalist Zarr should count as more than one book for teens who've not yet read her, because after finishing this one, they'll surely dig into her back catalog (including the stellar Story of a Girl)."
— Brightly

"Zarr adeptly brings to life a protagonist grappling with anger, loneliness, and rejection. The siblings' relationship is authentically nuanced. A thoughtful work that will resonate with Zarr's many fans and those who appreciate contemplative, character-driven novels."
— School Library Journal

"Gem's prickly, agonizingly real internal monologues quickly bring readers into her corner, and her messy, layered interactions with Dixie are heart-wrenching. As the unpredictable turns of events progress, Gem's quietly growing convictions about her own future are hard-won and nuanced. A poignant and smart family drama."
— Kirkus Reviews (starred review)