The Rise and Fall of D.O.D.O.: A Novel (Hardcover)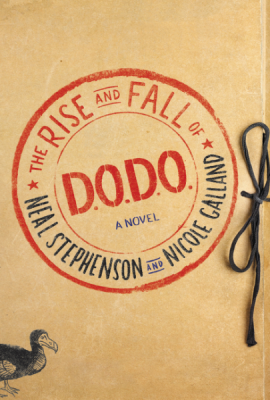 Email or call for price.
Special Order - Subject to Availability
Staff Reviews
---
The mythical transition between magic and science has infused much imaginative writing. Several of Stephenson's earlier novels, including his Baroque Trilogy, have touched on the subject -- with alchemist turned mathematician Isaac Newton as a pivotal figure. But in this new novel, Stephenson and his collaborator, Nicole Galland, have placed it center stage, worked out the scientific details, and pinpointed the historic moment that shut down magic for all future days.
As an adjunct professor of ancient and classical linguistics, Melisande (Mel) Stokes is little more than an indentured servant. When she meets secretive Tristan Lyons (with his evident military-ish training) and proves her genius at translating dead languages, she gratefully accepts his generous offer to join the ranks of the "shadowy government entity" known as the Department of Diachronic Operations. The entire novel is narrated in an assortment of compiled documents. The most sigmificant is Mel's "Diachronicle," a diary that reveals, on the book's first page, that she is trapped in the past and that temporal hijinks will be critical to the story's unfolding. This is all a great ploy for enhancing a reader's suspence while exploring historical intricasies -- two of Stephenson's supreme (and usually entangled) strengths as a writer.
The "observer effect" is on of the great mojos of particle physics, in which the status of a thing is determined by the very act of observation. When light is observed as a photon, its "wave function collapses." Such observation is the focus of the Schrodingers Cat thought experiment, wherein a theoretical cat, trapped in a box with a poison pill, sequestered from observable reality, is both alive and dead until its fate is determined by an observer's intrusion. This loophole in physics is what allows D.O.D.O. to build a human-sized Schrodinger's Box -- where a witch's magic still works -- to send agents back in time, and to grow into a thriving (farcical) bureaucracy. Did I neglect to mention witches? The outcome of D.O.D.O's meddling, is, of course, anything but predictable -- that is until observed by the reader.
— From
Jose's Picks
July 2017 Indie Next List
---
"For someone who approaches such serious scientific and technological subjects, Neal Stephenson can be outrageously funny. Combine that with Nicole Galland's storytelling ability and you have a rollicking roller coaster of a novel. The authors mix together magic, witchcraft, time travel, science, and historical figures, both real and imagined, while delightfully skewering bumbling bureaucrats, pretentious academics, a rigid military, and other bastions of the establishment to produce a work that is both thought-provoking and totally entertaining."
— Bill Cusumano (M), Square Books, Oxford, MS
Description
---
NEW YORK TIMES BESTSELLER!
Goodreads Choice Awards Semifinalist!
B&N Editor's Pick - Best Science Fiction and Fantasy of 2017 
From bestselling author Neal Stephenson and critically acclaimed novelist Nicole Galland comes a captivating and complex near-future thriller combining history, science, magic, mystery, intrigue, and adventure that questions the very foundations of the modern world.
When Melisande Stokes, an expert in linguistics and languages, accidently meets military intelligence operator Tristan Lyons in a hallway at Harvard University, it is the beginning of a chain of events that will alter their lives and human history itself. The young man from a shadowy government entity approaches Mel, a low-level faculty member, with an incredible offer. The only condition: she must swear herself to secrecy in return for the rather large sum of money.
Tristan needs Mel to translate some very old documents, which, if authentic, are earth-shattering. They prove that magic actually existed and was practiced for centuries. But the arrival of the scientific revolution and the Age of Enlightenment weakened its power and endangered its practitioners. Magic stopped working altogether in 1851, at the time of the Great Exhibition at London's Crystal Palace—the world's fair celebrating the rise of industrial technology and commerce. Something about the modern world "jams" the "frequencies" used by magic, and it's up to Tristan to find out why.
And so the Department of Diachronic Operations—D.O.D.O.—gets cracking on its real mission: to develop a device that can bring magic back, and send Diachronic Operatives back in time to keep it alive . . . and meddle with a little history at the same time. But while Tristan and his expanding operation master the science and build the technology, they overlook the mercurial—and treacherous—nature of the human heart.
Written with the genius, complexity, and innovation that characterize all of Neal Stephenson's work and steeped with the down-to-earth warmth and humor of Nicole Galland's storytelling style, this exciting and vividly realized work of science fiction will make you believe in the impossible, and take you to places—and times—beyond imagining.
About the Author
---
Neal Stephenson is the bestselling author of the novels Reamde, Anathem, The System of the World, The Confusion, Quicksilver, Cryptonomicon, The Diamond Age, Snow Crash, and Zodiac, and the groundbreaking nonfiction work In the Beginning . . . Was the Command Line. He lives in Seattle, Washington.
Nicole Galland is the author of the historical novels Godiva; I, Iago; Crossed, Revenge of the Rose; and The Fool's Tale; as well as the contemporary romantic comedies On the Same Page and Stepdog, and the New York Times bestselling near-future thriller The Rise and Fall of D.O.D.O. (with Neal Stephenson).
Praise For…
---
"[An] immense and immensely entertaining genre-hopping yarn. . . . A departure for both authors and a pleasing combination of much appeal to fans of speculative fiction."
— Kirkus Reviews (starred review)

"Quantum physics, witchcraft, and multiple groups with conflicting agendas, playfully mixed with vernacular from several centuries and a dizzying number of acronyms, create a fascinating experiment in speculation and metafiction that never loses sight of the human foibles and affections of its cast."
— Publishers Weekly

"[An] enticing speculative thriller . . . a complex and engaging what-if tale that blends technology and history."
— Booklist (starred review)

"There's a lot going on here—stylistic flourishes, comedic pratfalls, romance and science—but it's handled deftly. Those familiar with Stephenson will recognize his humor and ideas, while Galland (author of Stepdog, Crossed, Revenge of the Rose and others) brings a fresh and irresistible voice to this ambitious novel."  
— Washington Post

"Glorious."
— Cory Doctorow, Prometheus Award winning author of Homeland

"The Rise and Fall of D.O.D.O. reflects the familiarity of authors comfortable in their respective genres and who trust the change of style the other brings. The book is more than the sum of its authors' parts."
— The Straits Times

"Stephenson and Galland, full of zest and brio, have expertly assembled…a delicious soufflé of adventure, laughter, hubris, and mind-twisting diachronic paradoxes."
— Locus

"[The Rise and Fall of D.O.D.O.] explores the boundary between magic and science with wit, intellectual intensity and panache."
— Financial Times

"Whimscial and chaotic. . . .Crack the covers and time will seem to slip away."
— Toronto Star

"The Rise and Fall of D.O.D.O. is a high-stakes techno-farce with brains and heart."
— San Francisco Chronicle

"An intoxicating and worthy read . . . the collaboration provides both Stephenson and Galland a freeing atmosphere where ideas are explored and abandoned, measured and scattered, inflated and sent sputtering into the sky – an exhilarating place for a reader."
— Winnipeg Free Press